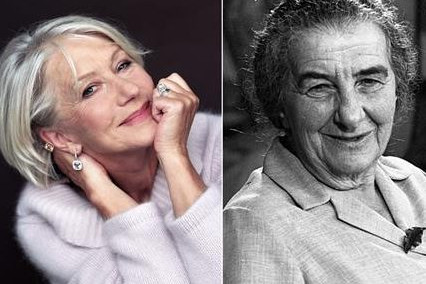 "WE NEED A BARBIE GOLDA MEIR," SAYS HELEN MIRREN AT JERUSALEM FILM FESTIVAL
13th Jul, 2023
"WE NEED A BARBIE GOLDA MEIR," SAYS HELEN MIRREN AT JERUSALEM FILM FESTIVAL
13th Jul, 2023
Screen Daily by Ben Dalton
A Barbie figure of former Israeli prime minister Golda Meir would be a good idea, according to Helen Mirren, who stars in both Jerusalem Film Festival (JFF) opening title Golda and narrates Warner Bros' upcoming blockbuster Barbie.
Speaking at a press conference for Golda ahead of the JFF opening ceremony this evening, Mirren addressed the contemporary relevance of Meir, who died in 1978.
"If you're talking about the history of feminism and women in power, Golda is an interesting example in that she had immense power; but [her government] was called 'Golda's kitchen cabinet' – she was happy to toddle around in the kitchen making everyone coffee, and playing the grandmotherly role," said Mirren.
"It's a very different attitude to power from what you think of as the male, Netanyahu-type of power to the Golda Meir kitchen power. But it's still immense power, it just comes from a different emotional place. Or let's say maybe it plays into different psychologies of the people that you're leading."
"It's interesting you make the connection with Barbie and Barbie's trajectory through life," responded Mirren to the question. "We need a Golda Meir Barbie, don't you think? Wouldn't that be a good idea?"
The marketing campaign for Barbie, which releases worldwide on July 21, has played on versions of the doll across different professions such as lawyer, doctor and teacher.
Directed by Guy Nattiv, Golda played out of competition at the Berlinale this year. Bleecker Street will release the film in the US on August 25; Embankment Films is handling international sales.
IdentityMirren also addressed the issue of a non-Jewish actor playing a prominent real-life Jewish person, which had previously been criticised by UK actress Maureen Lipman and writer David Baddiel.
"All I want to do is play great women and Golda was one of the greatest," said Mirren. "The whole understanding of who can play what has been blown up in the air. I think that's a wonderful thing."
Mirren identified two schools of thought on the issue – those who believe "anybody can play anything", and "another point of view, which is that only a gay guy should play a gay guy, only a handicapped person should play a handicapped person, and really only a Jewish person should play Golda Meir."
"I adhere to both," said Mirren. "At the same time as believing anybody can anything, sometimes the right person for a role is the person who can understand the issues in that."
She cited deaf actor Troy Kotsur's portrayal of a deaf character in Coda – for which he won the Oscar for best supporting actor – as an example.
"I'm personally ambivalent," added Mirren. "It was such an amazing place for me to be in this woman's mind and understanding."
The press conference began with genealogy website MyHeritage presenting Mirren with a chart showing a distant family connection between her father and Meir.
The organisation also said it has discovered Mirren is the 14th cousin of the UK's late Queen Elizabeth II, who the actress played in Stephen Frears' The Queen, winning the Oscar for best actress in 2007.
"It goes to show that we are all one family," said Mirren of the connections. "In times of divisiveness and strife, it would be a very good thing for us all to remember that fact."
Mirren was joined at the conference by Nattiv, actor Lior Ashkenazi and writer Nicholas Martin, the latter of whom compared Ukrainian-born Meir to Volodymyr Zelenskyy, the current president of Ukraine. "They share the indefatigability, the coolness and the commitment to their country," said Martin. "The struggle the Ukrainian people are going through at the moment – it strikes me every day, the parallels are so profound."
None of those at the brief conference addressed the imminent actors strike in the US, after the SAG-AFTRA negotiating committee voted unanimously to recommend strike action yesterday.
JFF gets underway this evening with the Israeli premiere of Golda. Celebrating its 40th edition this year, the festival runs until Sunday July 23.