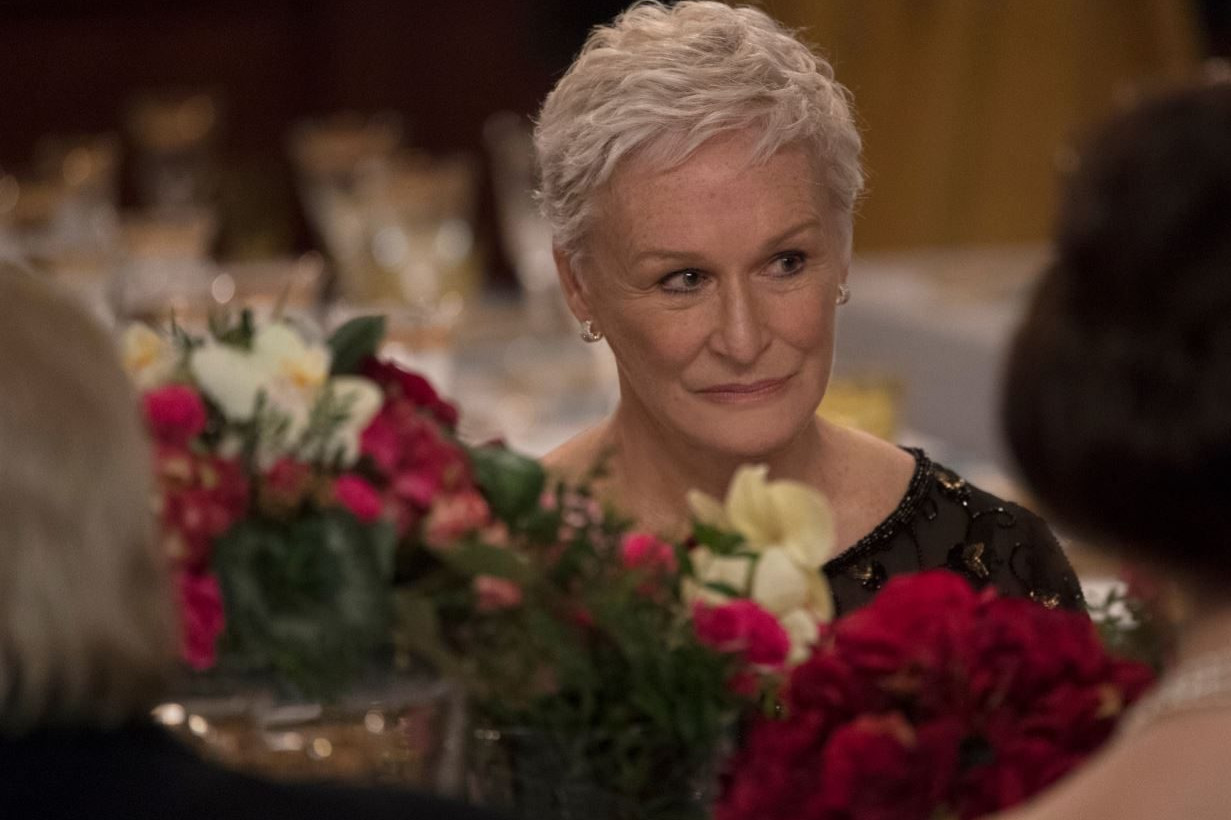 THE WIFE — REVIEW, ALLIANCE OF WOMEN FILM JOURNALISTS
15th Aug, 2018
THE WIFE — REVIEW, ALLIANCE OF WOMEN FILM JOURNALISTS
15th Aug, 2018
Alliance of Women Film Journalists by Cate Marquis
Glenn Close and Jonathan Pryce give searing performances in The Wife, a drama about what happens to a long-married couple when the husband is awarded the Nobel Prize for literature. The film is an astoundingly good drama, with gripping performances and an engrossing story. Continue reading…
There is that old saying "behind every great man is a great woman," a phrase that seems to praise that woman while also leaving her in his shadow. The relationship between brash famous author Joe Castleman (Jonathan Pryce) and his quiet, elegant wife Joan (Glenn Close) seems the epitome of that saying. The couple is a study in contrasts: Joe is egotistical and loves the spotlight, while Joan is self-effacing and reserved. Yet it is clear from the first scenes that Joe is barely functional without his wife, who organizes his life as well as smoothing over ruffled feathers Joe leaves in his wake.
Winning the Nobel Prize brings buried tensions to the surface, feelings and facts that Joan had been struggling to ignore. It is more that emotional support and organization that Joan brings to her marriage to Joe. Once a promising author herself, she chose to put her energy into promoting his career when she married Joe. It is a decision many women of her generation made, one with a high costs for the truly talented.
Director Bjorn Runge turns Meg Wolitzer's gripping novel into a strong drama that not only captures the nature of this kind of traditional martial arrangement but also throws a spotlight on the disparate treatment female and male authors receive from publishers and from readers. Lest you think that is something in the distant past, when women authors like George Sand had to write under a man's name, remember that the author of the Harry Potter books used a gender-neutral pen name, J.K. Rowlings, to avoid that very prejudice. In the case of Joan, once a promising writer in college in the 1950s, giving up the battle for recognition to join forces with a male college professor who already seemed on his way to success, might have seemed like a good compromise. Certainly it is a compromise talented women had been making for generations, subsuming their own ambitions to serve the career of a husband.
Close and Pryce are excellent together, but Close is the real acting standout. Occasionally the film flashes back to the couple's early days, giving us insights on how they arrived at this point. Also helping fill in the picture is an oily would-be biographer, played by Christian Slater, who has trailed them to Stockholm, probing for background, and their grown son David Max Irons), an aspiring author brooding over the father's lack of approval, which draws out details of family dynamics.
The Wife is a heck of a drama, delving into heated emotional territory in the chilly Scandinavian winter, a tale that is at once universal and particular to this couple.