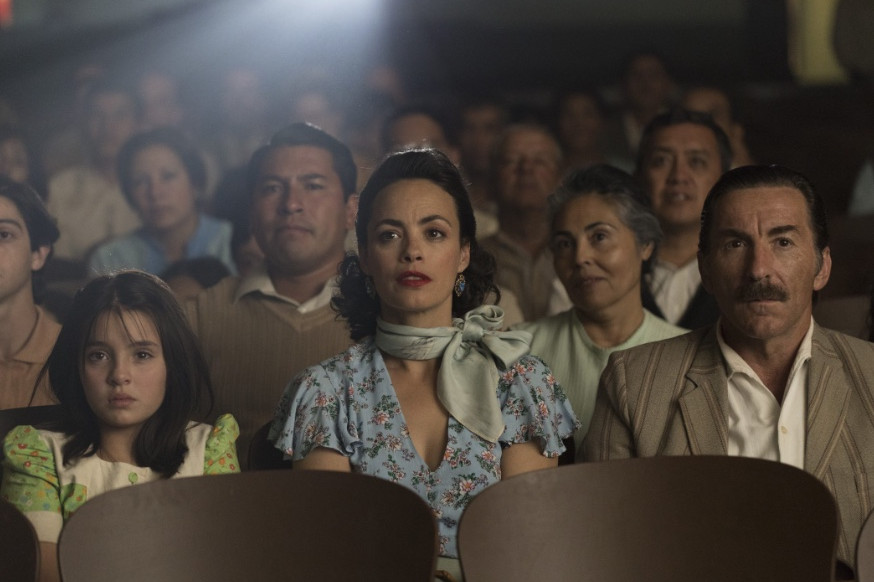 'THE MOVIE TELLER' REVIEW: BÉRÉNICE BEJO, DANIEL BRÜHL IN AN ENCHANTING CHILEAN CROSS BETWEEN 'THE LAST PICTURE SHOW' AND 'CINEMA PARADISO' – TORONTO FILM FESTIVAL
19th Sep, 2023
'THE MOVIE TELLER' REVIEW: BÉRÉNICE BEJO, DANIEL BRÜHL IN AN ENCHANTING CHILEAN CROSS BETWEEN 'THE LAST PICTURE SHOW' AND 'CINEMA PARADISO' – TORONTO FILM FESTIVAL
19th Sep, 2023
When I was in college cinema courses I made a Super 8 film called Movie Girl. It was a Hollywood-set love letter to movies centered on a Musso & Frank waitress who put herself dreamily into the plots of classic films. It won an award there but was the highlight of the directing career I never had. However, I have always been partial to filmmakers who put their own early film-going experience and passion into their careers now. You may have heard of them: Kenneth Branagh won an Oscar for doing just that in Belfast. Steven Spielberg got several nominations last year for his very personal The Fabelmans. Woody Allen had his own charming take in The Purple Rose of Cairo. Peter Bogdanovich made a lasting impression with 1971's The Last Picture Show, as did Giuseppe Tornatore with his Oscar winner Cinema Paradiso.
It is a combination of the latter two especially that might describe the feel of the latest movie about the love of movies, The Movie Teller (La Contadora de Peliculas), which had its world premiere tonight at the Toronto Film Festival. And just in sheer numbers of classic film clips incorporated into its near two-hour running time, this one sets a record in the little sub-genre. For movie lovers everywhere, The Movie Teller is a must-see.
Based on the worldwide bestselling book by Chilean author Hernan Rivera Letelier, director Lone Scherfig's The Movie Teller is set in a poor impoverished Chilean saltpetre mining town in the Atacama Desert of the 1960s, where a single movie theater represented the lifeblood and dreams of the town's inhabitants, particularly of one family on which the film is focused. It is narrated and seen through the eyes of young Maria Margarita, played as a child by Alondra Valenzuela and later as a young adult by Sara Becker. She describes her family dynamic including a mother, Maria Magnolia (Bérénice Bejo), still the best-looking woman in town, a loving parent, but also a dreamer who has never lost her own desire to become a star in the arts, but sadly watched it pass her by, something she warns her only daughter not to emulate. There is also her father Medardo (Antonio De La Torre), an older husband to and father of the four children including Maria's three brothers. He works in the mines, takes the family to John Wayne movies and especially quotes Charlton Heston in The Ten Commandments, but who later becomes handicapped and wheelchair-bound due to a work accident.
The first half of this movie sees these lives and others colored by the (mostly) Hollywood movies of their time that they flock to see at the thriving theater, but for which the family collectively can only afford one ticket — thus their habit of having each member act out at home the film they saw. Some are better than others when it comes to describing the likes of 1962's The Man Who Shot Liberty Valance (a John Ford film that also figured in clips from Belfast and The Fabelmans); Some Like It Hot, The Apartment, From Here to Eternity, Paths of Glory, Breakfast at Tiffany's, The Umbrellas of Cherbourg and more, each liberally excerpted with clips. But it is in her emotional recap and dramatic interpretation of the meaning of 1960's Spartacus that Maria Margarita shows the raw talent, perhaps inherited from her mother, that makes her the star movie teller of the family, but also the talk of the town, as people flock to see her tell stories of the movies they cannot otherwise afford a ticket to.
As the film progresses it gets more dramatic and pointed, particularly when mother Maria Magnolia hops a bus and abandons her invalid husband and kids to pursue the path not taken. Unlike mom, Maria Margarita stays behind and becomes a force for love and hope, even as the changing times will take its toll not only on members of the family, and the town, but also Chile itself as political events change everything.
The Movie Teller gets its power from the movies of the time, yes, but also what cinema and story means to us and our memories. It is truly a universal subject, which may be why this international production has Spain, Chile, and France credited as countries collaborating on its financing, but also sports artisans from around the globe. Scherfig (Italian For Beginners, An Education, One Day) is Danish and came on board to direct after Brazilian director-writer Walter Salles (Central Station, The Motorcycle Diaries) spent years developing his screenplay. The script was further honed by Spain's Rafa Russo and by Isabel Coixet (a renowned filmmaker herself). The cast includes Argentina-born Oscar nominated Bejo (The Artist), who works a lot in French films and is very fine here as the mother who is lost in her own regrets. German star Daniel Brühl (Rush, All Quiet on the Western Front) plays a man coming to town who becomes a key influence in their lives, and De La Torre, a Goya-winning Spanish star, is affecting as the father whose life takes a tragic turn. Best of all are the kids, particulary the adorable Valenzuela and lovely Becker who share the role of Maria Margarita, both seamlessly merging into a poignant portrait of the movie-loving daughter who learns how to survive a number of dark life moments. The casting work in creating the family dynamic through two distinct time periods and sets of actors for the kids is perfection. Shout-outs as well to the expert film editing by Bernat Aragones and Jordi Azategui, especially with artfully incorporating all those clips, and for veteran composer Fernando Velazquez's lilting score.
With the film mostly in Spanish (except for all those English-language movie clips) it seems a daunting effort to bring this international cast and crew together, but Scherfig has done it admirably and I think has delivered her finest film since 2008's An Education. And although the film is consumed with our obsession with the movies it, like many other international films is not afraid to show the political price many pay, particularly in movies with Chilean themes this year alone that deal head-on with the effect of dictator Augusto Pinochet, including not only Movie Teller but also Pablo Larraín's El Conde and the documentary The Eternal Memory.
Producers are Vincent Juillerat, Adolfo Blanco and Manuel Monzon.
Title: The Movie Teller (La Contadora de Peliculas)Festival: Toronto Film Festival (Special Presentations)Director: Lone ScherfigScreenwriters: Walter Salles, Rafa Russo, Isabel CoixetCast: Bérénice Bejo, Antonio De La Torre, Daniel Brühl, Sara Becker, Alondra Valenzuela, Pablo Schwarz, Joaquin Guzman, Francisco Diaz, Alfred Borner, Max Salgado, Santiago Urbina, Elian Ponce, Beltran Izquierdo, Simon BeltranRunning time: 1 hr 56 minSales agent: Embankment Films