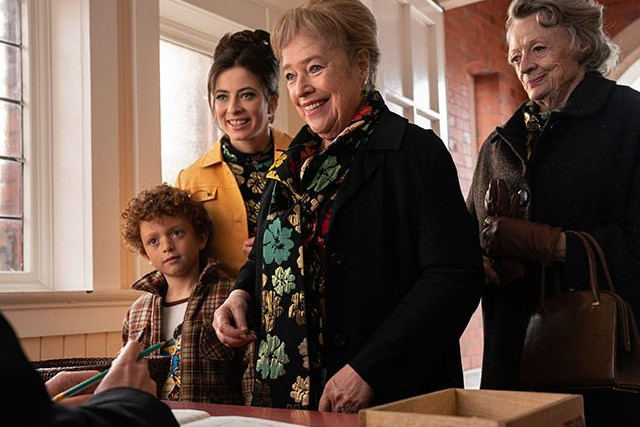 'THE MIRACLE CLUB' REVIEW: MAGGIE SMITH, KATHY BATES AND LAURA LINNEY STAR – THAT'S MORE THAN ENOUGH
12th Jul, 2023
'THE MIRACLE CLUB' REVIEW: MAGGIE SMITH, KATHY BATES AND LAURA LINNEY STAR – THAT'S MORE THAN ENOUGH
12th Jul, 2023
Anything that brings Maggie Smith, Kathy Bates and Laura Linney together for a smart and engaging movie that will lift your spirits these days is a miracle all by itself. Indeed, The Miracle Club is a reason to celebrate this summer, if only for the chance to see a sterling and beloved cast get roles worthy of their many talents.
The movie is the brainchild of co-writer Jimmy Smallhorne and based on his memories of his family and growing up in a small Ireland town, but the emphasis is clearly on the women in that family. For years he has tried to bring this to the screen, and finally once director Thaddeus O'Sullivan got involved it was on its way. O'Sullivan brought his two other writers, Joshua Maurer and Timothy Prager, to further develop it, and all the while Oscar-winning actress Bates was attached. Even with Covid delays threatening to never allow this slight but engaging story see the light of a screen, it got made, and now, squeezed between the releases of summer tentpoles like Indiana Jones, Mission: Impossible – Dead Reckoning Part One and the upcoming Barbie and Oppenheimer, Sony Pictures Classics has a treat in store for older adult audiences who had fled the multiplex during the pandemic. Hopefully this one can help bring them back. Certainly its star power has the ability to do just that.
Storywise, The Miracle Club takes place in 1967 in the small Irish community of Ballygar, just outside Dublin. It is the kind of town its residents have live in their entire life, and we get to meet some of them who have a simple dream of winning a talent competition at the local church, where first prize is a trip to Lourdes, the infamous French town where miracles occur — or so they hope and pray. Each of the women however have a dark side, one they are hoping a miracle can cure.
Lily (Smith) lives a quiet life with her husband but clearly has been racked with guilt that comes bubbling to the surface every so often, and will be again. Eileen (Bates) is a lively wife and mother facing the biggest test of her life with a cancer diagnosis. On the other end of the age scale is a young mother, Dolly (newcomer Agnes O'Casey), who with her husband faces the challenge of bringing up their mute 6-year-old. Although they do a rocking version of the 1960s Chiffons hit "He's So Fine," not everything is all that fine including their second-place finish. However, as fate would have it the winner blesses them by giving over that trip to Lourdes.
Complications arise with the arrival of Chrissie (Linney), a woman with a bit of mystery in her past as she left this town some 40 years earlier for a life in the States. Estranged from her mother but now returning for her funeral, she soon finds she is the only one attending as the aforementioned Lily and Eileen, both once close friends with her mother, have their own reasons to stay away. The soapier elements of the script take hold as revelations and secrets are revealed, the far-off past of these characters comes into focus, and the four women (including a reluctant Chrissie) head off to Lourdes in search of renewal. They should heed the words of the local priest, Father Demott (Mark O'Halloran), that you don't travel to the spiritual place of Saint Bernadette for an actual miracle, but rather to find the strength to go on in the face of adversity in a world where there are no miracle cures.
This is a lovely little film, a bit too packed with tragedies but nevertheless one that assures us human connection might be the greatest miracle of all. In one way or another all of these women find that to be the case. As you might expect, Smith, Bates and Linney are superb. O'Casey is a real charmer in her film debut, and even the men, though in the background, are welcome in their brief appearances. O'Halloran is particularly fine, and Stephen Rea, Mark McKenna and Nial Buggy are nicely cast too. The locations are a summer vacation in themselves, and so is this little gem of a gift to an older audience that Hollywood too often forgets exists anymore, especially this time of year.
Title: The Miracle ClubDistributor: Sony Pictures ClassicsRelease date: July 14, 2023Director: Thaddeus O'SullivanScreenplay: Joshua Maurer, Timothy Prager, Jimmy SmallhorneCast: Kathy Bates, Maggie Smith, Laura Linney, Agnes O'Casey, Stephen Rea, Mark O'Halloran, Mark McKenna, Nial BuggyRating: PG-13Running time: 1 hr 31 min