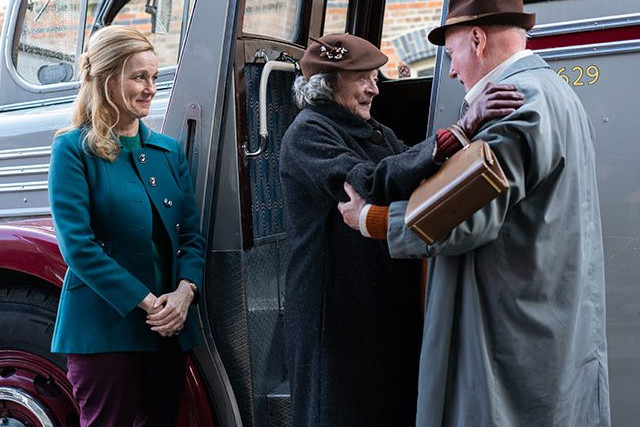 'THE MIRACLE CLUB' REVIEW: A PILGRIMAGE OF FORGIVENESS
16th Jul, 2023
'THE MIRACLE CLUB' REVIEW: A PILGRIMAGE OF FORGIVENESS
16th Jul, 2023
The Wall Street Journal by Kyle Smith
Maggie Smith, Laura Linney and Kathy Bates play old friends on a trip from Dublin to the sacred French town of Lourdes in a film focusing less on external feats than internal healing.
Those inclined to believe in miracles, especially Catholics, are the intended audience for the sweet comedy-drama "The Miracle Club," but this film about a pilgrimage to Lourdes is fundamentally about a practical occurrence: reconciliation among those who seem bent on carrying their various grudges all the way to the grave.
Directed by Thaddeus O'Sullivan, the movie is set initially in 1967 Dublin, where two elderly friends, Lily (Maggie Smith) and Eileen (Kathy Bates), plus a young mother named Dolly (Agnes O'Casey), whose primary-school-aged son has never spoken and who hopes for a cure, join forces to create an act for a talent contest held by their church. First prize is a bus-tour pilgrimage to Lourdes, in southwestern France, where the Virgin Mary appeared to St. Bernadette in 1858 and where bathing in a spring is said to have healing properties. A fourth friend, Maureen, who was eager to accompany the trio, has recently died. But the unexpected appearance of her adult daughter, Chrissie (Laura Linney), who emigrated to America 40 years earlier, causes tumult in the parish. Though she was once close friends with Eileen, Chrissie is not well liked, and the reason why is tied up with the death of Lily's 19-year-old son, Declan, an event that also happened in 1927.
The film has some hokey, bordering on maudlin, touches, notably a cloying musical score by Edmund Butt. And Ms. Smith, who is 88 years old, is not at her best, her famously commanding voice now weakened and made difficult to understand by age. But the story is lifted up by the hard-won wisdom experienced by the three Dublin ladies (joined, in a last-minute decision, by the unwelcome interlope Chrissie) after they arrive in Lourdes and are dismayed to learn that even at this shrine, miracles are hard to come by.
As are Catholic films featuring actors of this caliber, so "The Miracle Club" constitutes a welcome rebuttal to the various unappealing trends at the multiplex. The script, by Jimmy Smallhorne, Timothy Prager and Joshua D. Maurer, which is based on a story by Mr. Smallhorne, does not depend on supernatural elements. For a time it appears that the only truly wondrous occurrence in the story will be that, in Eileen's absence, her doddering husband (Stephen Rea) learns to cook a meal (if you consider the mangy stew he serves to his family to be edible).
Yet the experience of visiting Lourdes has had profound effects on many visitors over the past 150 or so years, and the film does an impressive job illustrating why that might be. The holy atmosphere, and the beautiful Basilica of the Immaculate Conception, do not necessarily unleash what Chrissie derides as "all that hocus pocus." But they do often spark moments of quiet reflection and humble acknowledgments of sin. As easy as it is to mock the Lourdes gift shop, the sense of awe and timelessness engendered by the area are real.
Instead of punishing one another, the women start to think about why God might be punishing them, and whether they might have merited some chastisement. "I haven't believed, you know, not properly, since Declan," notes Lily. In coming to terms with their own failings, she and Eileen begin also to confront the pointlessness of their enmity toward Chrissie. A priest (Mark O'Halloran) neatly explains the appeal of the locale: "You don't come to Lourdes for a miracle, Eileen. You come for the strength to go on when there is no miracle." The device of a bath, which turns out to be central both to the mystical appeal of Lourdes and to the internal torment of two of the four women, carries impressive metaphorical weight.
Though there is one gasp-inducing moment in the movie, the director underplays it nicely, creating no opportunity for those who consider the promise of miracles to be "hocus pocus" to hoot with contempt. "The Miracle Club" may not be a miraculous cinematic achievement but it does a fine job of dramatizing the healing power of forgiveness.