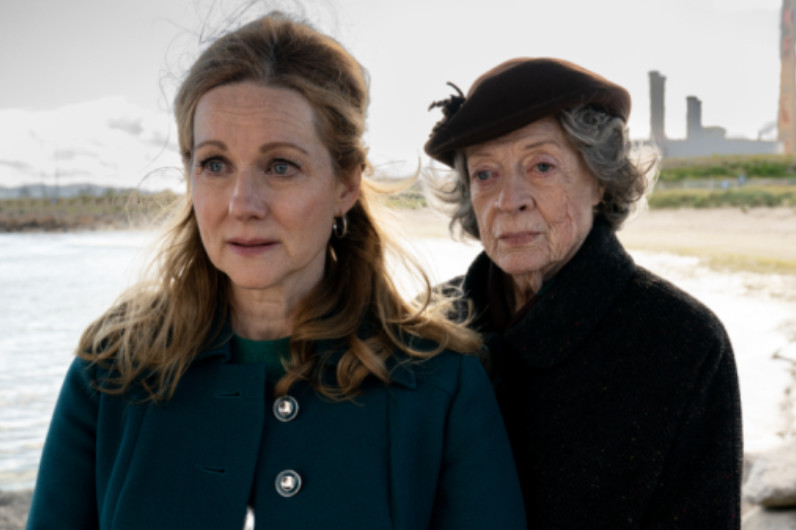 THE MIRACLE CLUB: MAGGIE SMITH FILM THAT TOOK 20 YEARS TO MAKE TO GET PREMIERE
8th Jun, 2023
THE MIRACLE CLUB: MAGGIE SMITH FILM THAT TOOK 20 YEARS TO MAKE TO GET PREMIERE
8th Jun, 2023
The Guardian by Dalya Alberge
Story of four Irish women who leave Dublin for the first time will be screened in New York next Monday
For almost 20 years, film-makers had struggled to make a heartwarming film about four riotous working-class Irish women, but they just could not make it happen – despite having a star in Dame Maggie Smith, whose awards include Oscars, Emmys and Baftas.
The screenplay was not quite right and funds could not be raised, but Smith never lost faith in the project.
Now a leading British producer, Chris Curling, has finally got it off the ground.
His cast is headed by three of the industry's foremost actors, including Smith, whose classic performances include the title role in The Prime of Miss Jean Brodie, for which she received an Oscar, as well as the acid-tongued dowager countess in Downton Abbey.
Smith stars alongside Kathy Bates, who won an Oscar for her portrayal of an obsessive fan in the screen adaptation of Stephen King's horror novel Misery, and Laura Linney, who was nominated for a best actress Oscar for her role as a single mother in You Can Count on Me.
Titled The Miracle Club, the film will be released in cinemas in September, after its world premiere at the Tribeca film festival in New York next Monday.
Set in 1960s Ireland, it tells the story of "funny, messy, vocal and flawed" working-class women who have never left their homes in the suburbs of Dublin. With "benevolent interference" from their local priest, they escape their daily struggles when they win the prize of a lifetime – a church talent competition that takes them to a place of miracles, the sacred French town of Lourdes.
It is directed by the Emmy-nominated Irish film-maker Thaddeus O'Sullivan, whose previous productions include the television crime drama series Silent Witness.
"What really enthralled me about the story is how three strong characters confront one another and then, by embracing truth, they understand that the miracle they have all been looking for is right in front of them – in the strength of their friendships and unshakeable togetherness," he said.
"What we have achieved together is to make an emotional movie that is truly joyous, uplifting and aspirational."
He described working with Smith as a revelation: "She's so un-Downton. Although [her] character does have a somewhat prickly and demanding nature … eventually we see a deeply vulnerable, humble and compassionate woman."
Curling said: "She has such an actor's brain. The questions she asks, the comments she makes … about the screenplay as a whole and individual scenes got to the heart of the story and the relationship between her and the other two characters. Every day on the set with her was a revelation."
The producer's previous films include The Last Station, a drama about Tolstoy starring Helen Mirren and Christopher Plummer in Oscar-nominated performances. He also recently worked with Linney on Falling, an acclaimed drama about a middle-aged gay man with a homophobic father.
Falling review – Viggo Mortensen casts a clear eye on dementiaRead moreHe was first approached to finance The Miracle Club about 18 years ago, but he was already committed to other films. "It was going to be made by HBO and then that fell through. Then other people have been trying to get it off the ground ever since. But Maggie Smith has always been very keen from the beginning," he said.
More recently, he was approached again by a Los Angeles producer, Josh Maurer, who is now one of the film's co-writers, with Jimmy Smallhorne and Timothy Prager.
Curling said: "Independent films are always very difficult to finance. Sales agent, Embankment, were instrumental in financing the film through pre-sales and there was a crucial award from the British Film Institute's new UK Global Screen Fund, and further investment from Screen Ireland, among other sources."
The cast also includes Agnes O'Casey, a great-granddaughter of the playwright Sean O'Casey, who made her onscreen debut in the 2021 BBC One drama Ridley Road, and Stephen Rea, who was Oscar-nominated for his performance in Neil Jordan's thriller, The Crying Game.