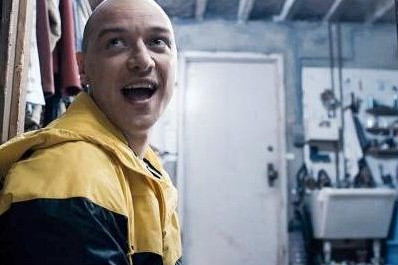 'SPLIT' STAYS TOP IN NORTH AMERICA, NEARS $100M (UPDATE)
5th Feb, 2017
'SPLIT' STAYS TOP IN NORTH AMERICA, NEARS $100M (UPDATE)
5th Feb, 2017
Screen Daily by Jeremy Kay
FEBRUARY 6 UPDATE: Universal-Blumhouse's James McAvoy horror hit held on to pole position in its third session during a typically lacklustre weekend as film-going makes way for Sunday's American football Super Bowl final.
Split grossed a confirmed $14.4m as the running total climbed to $98.5m and retained its box office crown ahead of Paramount's horror reboot Rings, which debuted at number two close behind on $13m from 2,931. The studios will release confirmed numbers on Monday.
Rings carries a reported production cost of $25m without details of marketing spend and combined with an early $15.2m international box office for a $28.5m global weekend launch.
While Fox's Hidden Figures and Lionsgate's Oscar frontrunner La La Land consolidated their $100m-plus grosses, Lion vaulted four places into the top 10 to rank eighth.
The Weinstein Company release, fresh from a successful Saturday night that saw Garth Davis collect the DGA's first-time director award and Greig Fraser win the ASC cinematography prize, added $3.76m for a $24.5m running total after 11 weekends.
STX Entertainment launched the romantic adventure The Space Between Us in ninth place on a poor $3.8m from 2,812 venues. International licensing deals will mitigate the loss, however at a reported production cost of $30m without taking marketing spend into account (which was undisclosed) this was a disappointing debut. The early international gross stands at $1m.
SPC opened The Comedian starring Robert DeNiro at number 10 on $878,000 from 848 sites.
Magnolia Pictures scored a terrific debut for its acclaimed Oscar-nominated documentary I Am Not Your Negro at number 24 on $686,000 from 43 theatres.
Box office for the top 12 releases combined for $80.8m – a 31% drop on last weekend and a 1.1% drop against the same session in 2016.
This week's wide releases are: The Lego Batman Movie through Warner Bros; Fifty Shades Darker from Universal; and Lionsgate-Summit's John Wick: Chapter Two.
Confirmed top 10 North America February 3-5 2017Film (Dist) / Conf wkd gross / Conf total to date
1 (1) Split (Universal) Universal Pictures International $14.4m $98.5m
2 (-) Rings (Paramount) Paramount Pictures International $13m –
3 (2) A Dog's Purpose (Universal) Universal Pictures International $10.5m $32.6m
4 (3) Hidden Figures (Fox) Fox International $10.2m $119.5m
5 (5) La La Land (Lionsgate) Lionsgste International $7.4m $118.2m
6 (4) Resident Evil: The Final Chapter (Sony/Screen Gems) Sony Pictures Releasing International $4.7m $22.1m
7 (7) Sing (Universal) Universal Pictures International $4.1m $262.9m
8 (6) XXX: The Return Of Xander Cage (Paramount) Paramount Pictures International $3.9m $40.2m
9 (-) The Space Between Us (STX Entertainment) STX International $3.78m –
10 (14) Lion (TWC) TWC International $3.76m $24.5m