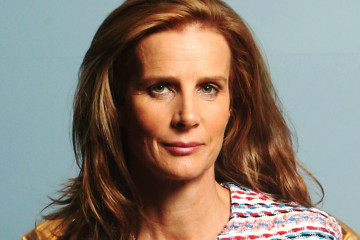 RACHEL GRIFFITHS ON HOPPING INTO DIRECTING SADDLE WITH 'RIDE LIKE A GIRL'
8th Nov, 2017
RACHEL GRIFFITHS ON HOPPING INTO DIRECTING SADDLE WITH 'RIDE LIKE A GIRL'
8th Nov, 2017
Deadline by Nancy Tartaglione
EXCLUSIVE: Rachel Griffiths is getting ready to jump into the feature directing saddle, taking on horse-racing drama Ride Like A Girl. With shooting set to begin in March, Village Roadshow has boarded Australian rights. In the aspirational drama, Teresa Palmer is playing Michelle Payne, the first female jockey to win the prestigious Melbourne Cup. Also in the cast are Sam Neill and Jacki Weaver. Griffiths and I recently chatted about the project and why this was the right time to make the leap into features after a pair of shorts and a trio of TV episodes.
The Oscar and Emmy nominee, and Golden Globe winner, who has starred in such series as Six Feet Under and Brothers And Sisters, has always wanted to generate her own content, but never before did Griffiths feel she had the energy. "I was excited that directing was a part of the early conversations with Brothers And Sisters. And just as I was getting there, I got pregnant for the third time and felt I wouldn't be serving the show," she told me.
From her home Australia, she elaborated, "It's been interesting coming back to Melbourne and having time to just renew myself and my own roots after coming out of long actor contracts. I was essentially under contract for 10 years."
But in 2015, when Payne became the first woman to win the Melbourne Cup, "It was an indescribable moment. Everyone remembers where they were during that race. I rang my producer and said, 'We have to do this one.' It tapped into so many things."
Payne is the youngest of 10 children, all jockeys, who lost her mother at the age of six months. The film's story follows Payne who was always warned she could never be a world class jockey; not tough enough — not a man. But she fought for every opportunity to ride hard and race fast. Her father, Paddy (Neill) and her family championed her ambition, despite early failures, broken bones, and a tragic family death on the racecourse. Maverick trainer Darren Weir also saw Payne's unmistakable talent, intelligence, true grit and indomitable spirit. It's under his watchful eye that Payne got what seemed an impossible chance to ride Prince of Penzance in the 2015 Melbourne Cup.
Griffiths calls the film a "last of the litter story. Her quest was to really bring home the golden chalice and put her family's name in the history books." The Melbourne Cup is the richest two-mile handicap in the world and one of the richest turf races. The event takes place on the first Tuesday in November and is referred to as "the race that stops a nation." The 2017 running is next week.
Griffiths points out that thanks to new cameras and technology the racing scenes will be able to put the audience in the thick of the action. "We feel it from the athletes' point of view and understand how fast and aggressive and close they ride to each other." She sees the ultimate result as "Beauty And The Beast meets Hacksaw Ridge" (Griffiths starred in the latter). She adds, "Australia is one of the great sporting nations in the world, but we have yet to deliver a real sports film."
The Hacksaw Ridge reference is further notable given Ride Like A Girl is co-written by Hacksaw's Andrew Knight (Elise McCredie also wrote Ride Like A Girl and Richard Keddie is producer; Embankment is handling international sales).
When I suggested that this is quite an undertaking for a first-time director, Griffiths said, "It's nuts. I totally agree. I didn't really plan it that way. I should have done a two or three million budgeted film. It's such a tough market. You have to find a story that makes the market and I was lucky enough to find this one." She sees a parallel with her countryman Russell Crowe having taken on 2014's The Water Diviner as his directorial debut. That film was also co-written by Knight and grossed $38M including over $12M at home where it won the Best Film AACTA Award.
Actors are well-suited to directing, Griffiths believes. Many "have great ideas and formative experiences with other directors and that gives us an interesting position to be working from."
She talked about how much she loved working with Mel Gibson on Hacksaw Ridgeand the "experience that an actor/director like Mel brings. There's a sense of knowing when it's landing, knowing when it's boring. It's less a cerebral approach I have really enjoyed on the receiving end. I feel more empowered to take that next step."
Griffiths adds, "I feel the heat. I've been really buoyed by the meaning of this story to this market in its authenticity." She sees Ride Like A Girl's vibe akin to such films as Billy Elliot and The Full Monty. "It's really positive. Our days are full enough… It's a win for a community as a radiant amplification and how we as an audience interact with that." She is also, she says, "obsessed" with Dangal. That's the hit Aamir Khan-starring movie about a father grooming his daughters to be competitive wrestlers. Ride Like A Girl has its own male heroes who champion the women, Griffiths notes.
She adds, "I'm having a moment where these stories are finding a place to land. Women shouldn't need permission to feel empowered to step up. In this moment I feel it, yeah, step up."
The film is the first project to receive special script funding under Screen Australia's Gender Matters policy, a new Oz initiative to promote female filmmakers and stories with a female protagonist.