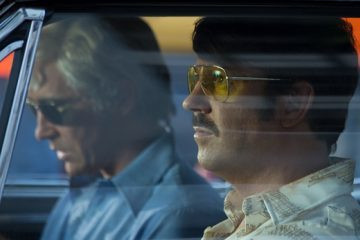 PRODUCER OF 'DRIVEN' REMINISCES ABOUT FILMING IN HURRICANE-TORN PUERTO RICO
9th Nov, 2017
PRODUCER OF 'DRIVEN' REMINISCES ABOUT FILMING IN HURRICANE-TORN PUERTO RICO
9th Nov, 2017
While at the AFM, London-based Embankment Films is kicking off sales on Nick Hamm's "Driven," an 1970s action-packed film with Jason Sudeikis and Lee Pace that wrapped shooting Nov. 2.
The film is inspired by the true story of an FBI operation that was conceived to bring down John DeLorean, the maverick auto executive who launches the DeLorean but was brought down in a drug scandal.
Piers Tempest, who is producing the film with Luillo Ruiz, told Variety that filming "Driven" turned out to be apocalyptic because it shot in Puerto Rico in between two hurricanes, Irma and Maria.
"Puerto Rico had not have a hurricane for eight years so I thought it would OK. But first, Hurricane Irma came on during last week of pre-production and we had to fly back the non-resident crew members," said Tempest.
Then, during the last week of shoot, when "category-5 Hurricane Maria hit, it really decimated the island — we had to evacuate everyone and shut everything down for two weeks," added the producer.
Tempest said the two-week hiatus was challenging because of the actors' schedules but eventually everyone was back on board, even the Puerto Rican crew.
"The Puerto Rican crew wanted us to come back and wanted to work, to normalize things. It was so brave of them to be working full days and go back to their homes, where they had no water and no power," said Tempest.
The producer said the actors worked with the aid relief programs and helped raised thousands of dollars on their days off.
"Adverse situations really bring out the best in people. I'm so glad we got everyone back and the movie is turning out really well," said the producer, who now has a hurricane app on his phone.