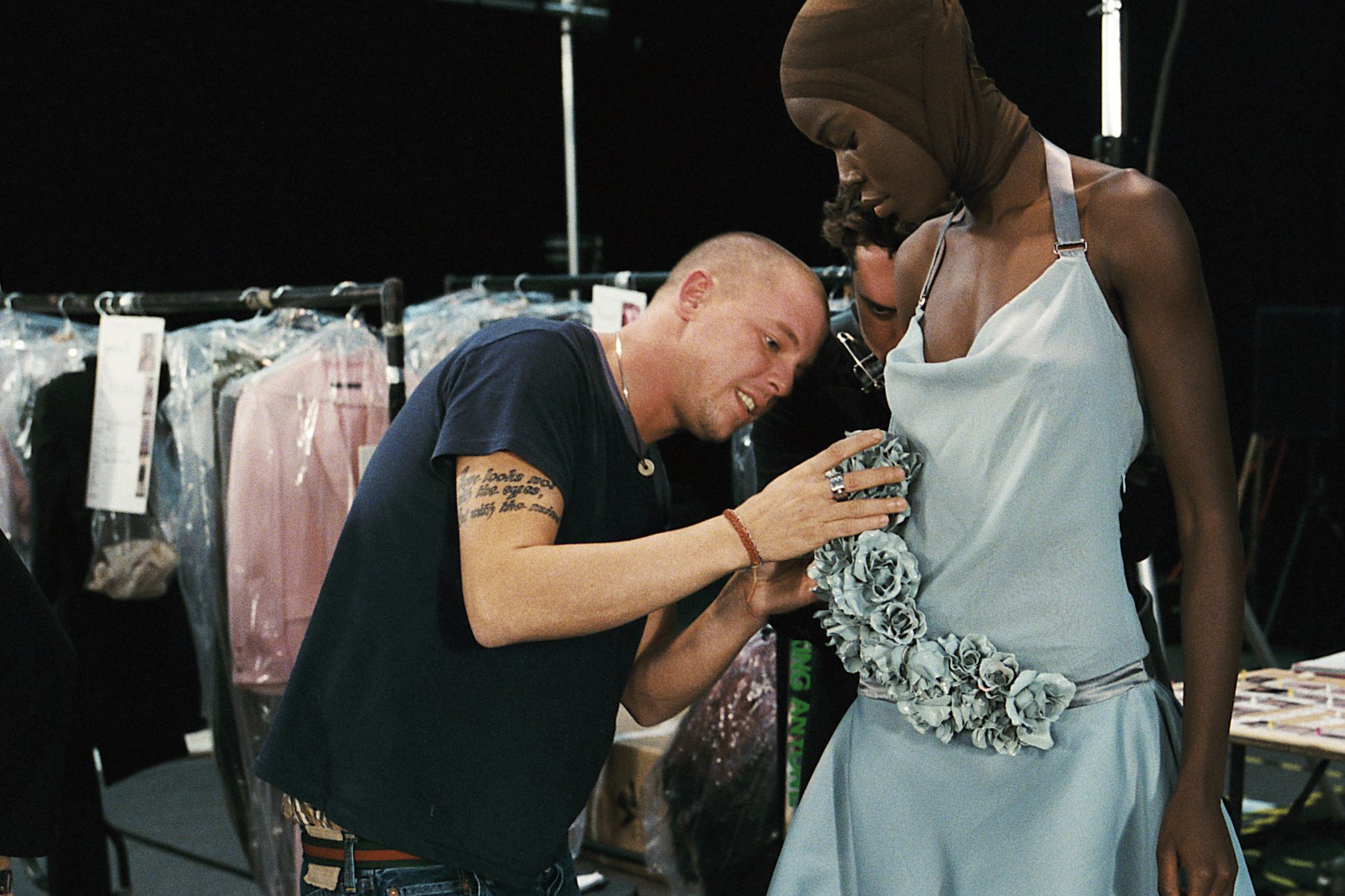 MCQUEEN DOC EVOKES THE EYE-WELLING, SPINE-TINGLING EMOTION OF HIS MOST MEMORABLE SHOWS
23rd Apr, 2018
MCQUEEN DOC EVOKES THE EYE-WELLING, SPINE-TINGLING EMOTION OF HIS MOST MEMORABLE SHOWS
23rd Apr, 2018
According to the filmmakers behind the new documentary McQueen, premiering at the Tribeca Film Festival this weekend, Lee Alexander McQueen didn't like to be on camera. The opportunity to capture him on film in an intimate setting was only afforded to his close friends and family, and only when he was in the very early years of his career.
Despite all this, there were many happy times caught on camera. There are home videos of McQueen as a paunchy, smiling teenager in the East End of London playing pranks and telling his mum, Joyce, how beautiful she was. There are recordings of him frolicking with his dogs and enjoying irreverent gossip sessions at his dear friend Isabella Blow's country estate. There are VHS tapes with footage from inside his London studio just after he graduated from Central Saint Martins and from the first day he and his team drove up to the gilded doors of Givenchy. It's these memories, along with rare archival videos of his earliest runway shows, that form the backbone of McQueen.
Director Ian Bonhôte and screenwriter Peter Ettedgui use McQueen's collections as pinpoints on the road map of his up-and-down life and career. "The early shows, like his graduation collection [from Central Saint Martins in 1992], were very difficult to track down," says Bonhôte. "But when we first saw the complete version of that show, we could barely contain our excitement—we suddenly realized that, even then, he had such a clear vision and unique voice." He adds, "We learned also that was something Isabella Blow spotted immediately. 'The Yves Saint Laurent of the 21st century,' she said to his mum when she called up trying to set up a meeting with him."
Bonhôte and Ettedgui devote quite a bit of screen time to the Highland Rape collection of 1995, which was widely panned for its depiction of women in a state of shock and pain after a sexual assault. Many didn't realize at the time, but the show was perhaps his most personal, not only because he looked to his family's Scottish ancestry for inspiration, but also because—as his sister discusses—McQueen was sexually abused by her former husband, who also beat her in front of him.
McQueen's former art director, Simon Costin, provided the majority of the home videos shot inside the designer's original studio and the Givenchy atelier. "We don't reckon Lee thought of these home movies as anything more than novelty fun, and several times in the film, the camerawork goes a bit crazy as Lee seizes the camera and plays around with it," notes Bonhôte. These scenes are intercut with old BBC footage from a special on McQueen's first couture show at Givenchy, as well as still photographs taken by Anne Deniau, who followed the designer over a period of 13 years. Again, this kind of footage, especially the more formal BBC interview, was rare in the heyday of Alexander McQueen the label. He could be a bit prickly around the press, and much of the time made himself unavailable to show reviewers backstage. "The big creative challenge for us," Bonhôte says, "was to take these very different archive sources [more than 150 in all] and blend them together effectively so that it feels like they all belong in the same film."
The runway and studio footage in McQueen is a reminder of how much glory the designer had in his terribly short life. Fashion fanatics call him a god to this day, but even after seeing his work inside the Metropolitan Museum of Art several years ago, few understand how interconnected his clothes were to his personal narrative. His Fall 1997 show, It's a Jungle Out There, was a response to the terrible reviews he received for his debut at Givenchy. The Spring 2001 show, titled Voss, featured a curvy nude woman with a breathing tube attached to her face and moths fluttering around her body, inspired by Joel-Peter Witkin's 1983 photograph Sanitarium. It was a metaphor, as explained in McQueen, for the designer's feeling that the fashion industry had sucked the life out of him; at that point, he was designing 14 collections a year between Givenchy and his own label and was feeling, according to friends and family in the film, that LVMH was pitting him against John Galliano at Dior.
To the outside world, McQueen's collections were fantastical dreamscapes, but this film reminds us of their poignancy. It is a quality mostly missing from fashion in 2018, in an industry that plays to the visually overstimulated Instagram generation. We move faster, snap photos quicker, turn to the next thing in an instant. What would McQueen make of it?
Here, a look back at some of the most arresting looks from the runway shows featured in the film.