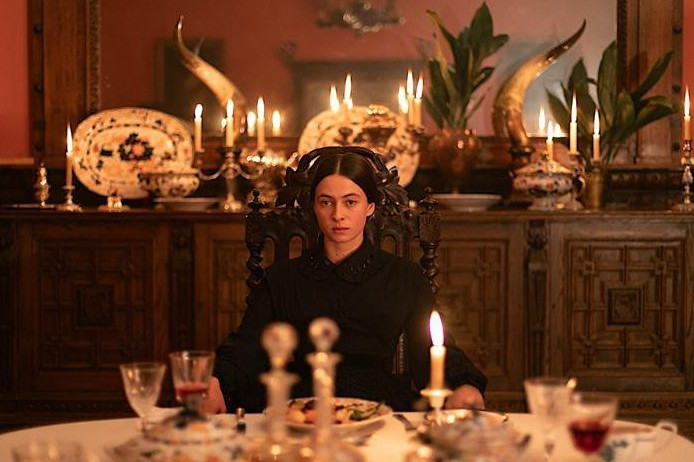 'LIES WE TELL': GALWAY REVIEW
18th Jul, 2023
'LIES WE TELL': GALWAY REVIEW
18th Jul, 2023
Screen Daily by Fionnuala Halligan
Star Agnes O'Casey brings a modern edge to this adaptation of Sheridan Le Fanu's 'Uncle Silas'
In Lies We Tell, director Lisa Mucahy, working with writer Elisabeth Gooch, puts a feminist top-spin on the Victorian 'locked-up lady' genre exemplified by Sheridan Le Fanu's source novel 'Uncle Silas'. While Lies We Tell may not be the most memorable title for this Gothic-tinged story of a young Irish heiress and her dangerous leech of an uncle, a singular performance by young talent Agnes O'Casey in the lead role gives this pretty period piece a serrated edge.
The war of wits between Maude (Agnes O'Casey) and her Uncle Silas (David Wilmot) gives the film its sharpness
Gooch has taken liberties with the text, which pays off in some respects even if it muddies other aspects of the narrative. The decision to excise the whole first third of the novel makes for a brisk 89-minute film, for sure. Now Maude (O'Casey) is solely depicted as being both alone and a loner, and the story becomes less about her being passed from parent to guardian and home to house in the late 19th century than a bluntly independent woman using her wits to triumph in increasingly dangerous circumstances. With the support of Breakout Pictures in Ireland and Embankment on board for sales, this may well travel to further festivals after its Galway bow before a commercial release at home. High-end streaming elsewhere would seem to beckon.
It's the war of wits between Maude and her Uncle Silas (David Wilmot) which gives the film its sharpness. Dangerous one-upmanship and an escalation in the stakes result in some genuinely arresting drama, but there's not much suspense and certainly no country house horror here, despite the decidedly Gothic settings. It could be argued that Maude and Silas are cut from the same cloth, in fact, making her a more ambiguous heroine than we're used to. She's certainly both clever and rude from the get-go, shrugging off the concerns of the trustees of her late father's sprawling estate and agreeing to the guardianship of her Uncle Silas, who arrives at 'Knowl' with a rackety reputation, a laudanum habit and an entourage: Madame (Grainne Keenan), the supposed French governess, alongside Maude's two cousins (Holly Sturton and Chris Walley).
Silas's bad reputation rests on the mysterious death of a gambling acquaintance, which resulted in his estrangement from Maude's late father. He claims his innocence, but he's an arrogant man with a score to settle – and a niece he wants to marry to his own son, thereby claiming the estate he feels he was cheated out of. Despite her superior ways, Maude will soon discover just how precarious her position is and how tough Silas can be when it comes to raising the stakes.
Within this chess game, Maude's position shifts and she is left with only her wits to save her. The production has opted to present this as a proto-feminist take, giving Maude some Herculean tasks to perform, given the circumstances, and with no allies to be seen. It also lessens the ambiguity around Silas and the revelation of his past, meaning the denouement lacks surprise. Still, it's nice to see this rewriting of the conventions of one of the oldest genres, with prolonged and violent sexual threat both explicit and well-realised.
Shot on location in Ireland, Lies We Tell has, perhaps appropriately, a lushly-green look as Maude flees her clean-lined Georgian surroundings for respite in the forest, always clad in stiff, high-necked black taffeta and a richly commanding demeanour for one so young. It may be a lower-budget production, but it doesn't betray that. In a crowded market for a period piece like this, O'Casey, great-granddaughter of Irish literary giant Sean and the star of TV's Ridley Road, has the space to make her mark. And she has the grit of her character in driving the film over whatever bumps may come her way.