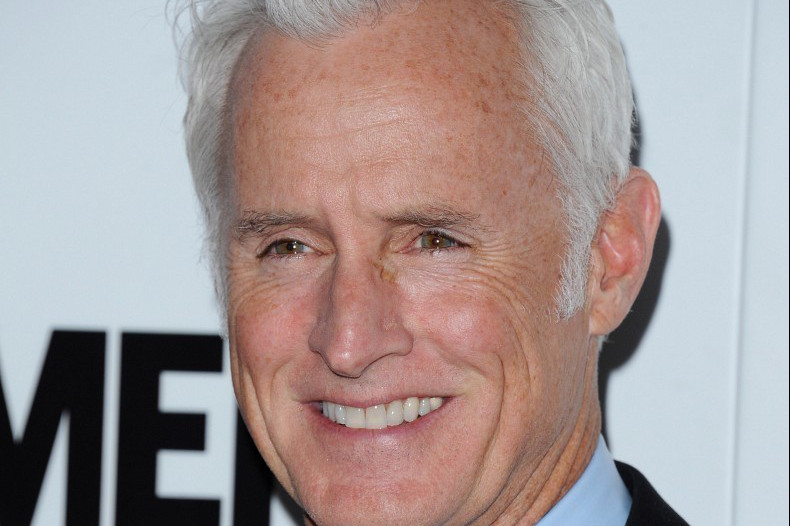 JOHN SLATTERY TO PLAY EISENHOWER IN CHURCHILL BIOPIC
28th Apr, 2016
JOHN SLATTERY TO PLAY EISENHOWER IN CHURCHILL BIOPIC
28th Apr, 2016
Screen Daily by Andreas Wiseman
EXCLUSIVE: Mad Men and Spotlight star to play opposite Brian Cox in Churchill, one of five films in production for Embankment Films.
Mad Men and Spotlight star John Slattery will play US Army General Dwight D. Eisenhower in upcoming biopic Churchill, which will star Brian Cox as the eponymous British war-time leader.
Shoot is due to get underway on May 23 in Scotland on the feature from The Railway Man director Jonathan Teplitzky.
Miranda Richardson and Suki Waterhouse will co-star in the feature, which Embankment Films launched at AFM last year and will continue selling in Cannes.
Eisenhower served as Supreme Commander of the Allied Forces in Europe during World War II and would go on to serve as 34th President of the US from 1953 until 1961.
Stanley Tucci had previously been lined up for the role but was unable to participate due to scheduling conflicts.
Churchill is one of five productions to get underway for Embankment between April 11 and May 23, 2016, no mean feat for an independent UK sales outfit, especially considering the productions span Australia, Spain, Scotland, France, Germany and parts of Africa.
Kicking off earlier this month in Australia was Simon Baker's (The Mentalist) directorial debut Breath, based on Tim Winton's coming-of-age novel. Meanwhie, Wim Wenders' romance-dramaSubmergence, starring the red-hot Alicia Vikander and BAFTA-winner James McAvoy, got underway in Berlin on the same day.
English-language thriller Inside started in Barcelona on April 25, while UK horror Hush, starring Celia Imrie, Ben Lloyd Hughes andThe Falling's Florence Pugh, is due to begin shoot on the same day as Churchill.
Hush and Churchill will both shoot in Scotland and received finance from Creative Scotland.
The $6m-budgeted Churchill recently closed finance with Zurich-based gap financier Silver Reel while Hush got closing finance via UK outfit Catalyst Global Media. Lipsync also recently backed the latter.
The films have been primarily financed through European pre-sales with the US still available on each film. But what's the key to getting so many films off the ground?
"Primarily it's in the strength of the material and that material knowing it's audience," says Embankment partner and former Icon executive Hugo Grumbar.
"There's a clearly identifiable audience for each film and they are being made for a corresponding budget to suit the economics of distribution. That's why they get financed and go into production and the material connects with distributors."
"We're a small, nimble team," adds fellow Embankment partner and former HanWay Films executive Tim Haslam. "We're highly involved with the banks, mezzanine, GAP and other financiers – as well as being very involved with producers and directors by being close to the material at an early stage of development.
"Speed and open dialogue is our metier. We have no-one else to report to or depend upon, so our motivation is extremely high. We enjoy rapid response."
Within that team sales executive Sharon Lee has been recently promoted to head of sales and former production assistant Greg Martin has joined the company in an acquisitions and marketing capacity.
The market increasingly demands a targeted approach from an early stage, however, cautions Haslam.
"The economics of independent film finance are highly challenging, primarily because the film distribution marketplace is to a far lesser degree underwritten by TV value. Indie films that are getting financed have been written and developed with a specific audience in mind for both a cinema and TV demographic.
"The defining independent requirement today is that producers and financiers pre-determine the scripts demographic audience in development – one can't finance a movie because 'I just want to tell that story'. From inception the script needs to address your audience and the distribution requirements of getting to that audience."
In addition to its five films in production, Embankment also has five features in late post-production: James Franco's Zeroville, Martin Koolhoven's Brimstone, Ben Lewin's Please Stand By, Bryan Bertino's There Are Monsters and Chinese co-production The Wonder.
Further ahead for the company is Andy Serkis' Animal Farm and Glenn Close drama The Wife, which is due to get underway in October.