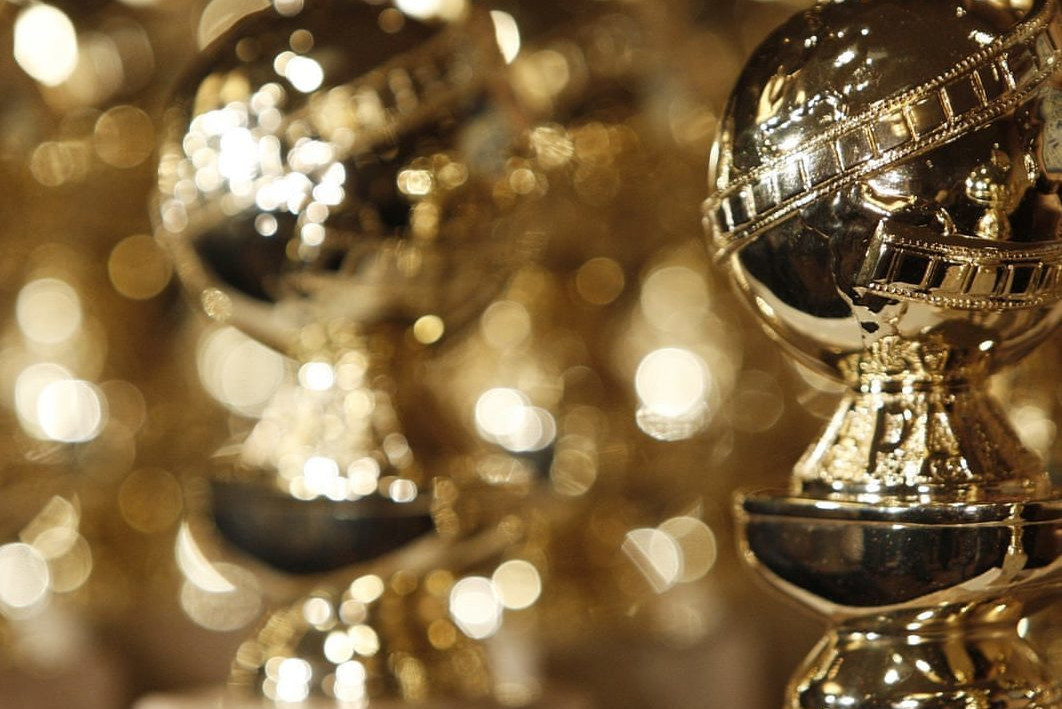 GOLDEN GLOBES NOMINATIONS: THE FATHER
4th Feb, 2021
GOLDEN GLOBES NOMINATIONS: THE FATHER
4th Feb, 2021
Deadline by Patrick Hipes
Nominations for the 78th annual Golden Globe Awards were revealed Wednesday morning as the Hollywood Foreign Press Association set its noms for the best in film and TV. In a year of theatrical upheaval thanks to the coronavirus pandemic, streaming giant Netflix dominated both fields with a total of 44 nominations, with David Fincher's Mank and Aaron Sorkin's The Trial of the Chicago 7 leading the way in movies and The Crown and Ozark among the leading nom-getters in TV.
Mank and The Crown scored the most noms overall with six, pacing their respective marquee best drama categories.
On the film side that included Chicago 7, Sony Classics' The Father, Searchlight's Nomadland, and Focus Features' Promising Young Woman. That translated into a strong showing in the Directing race for female helmers, with Nomadland's Chloe Zhao, Promising Young Woman's Emerald Fennell and One Night In Miami's Regina King joining Fincher and Sorkin scoring noms; the latter pic missed out on Best Picture.
On the TV side the Drama Series race features The Crown and fellow Netflix titles Ozark and Rached alongside Disney+'s The Mandalorian and HBO's Lovecraft Country. Netflix had 20 total noms in TV, with HBO a distant second with seven.
Among the highlights of the morning were a posthumous nom for Chadwick Boseman for this role in Ma Rainey's Black Bottom, which also saw Viola Davis nominated though it missed out on a Best Picture mention. Another posthumous nom went to Jack Fincher, David Fincher's father who had penned Mank. Sacha Baron Cohen landed multiple nominations for his Borat Subsequent Moviefilm (noms for the Best Motion Picture – Musical or Comedy along with individual mentions for he and Maria Bakalova) and his role in Chicago 7. Anya Taylor-Joy and Olivia Colman also had multiple noms this morning.
With Borat, Amazon Studios was second overall in film noms with seven, followed by Focus Features, Searchlight Pictures, Sony Pictures Classics and Walt Disney Studios Motion Pictures with five apiece.
Another notable: In TV, Emmy sweeper Schitt's Creek pulled off the same noms for the Globes – Best Comedy along with acting nods for Catherine O'Hara, Eugene Levy, Daniel Levy and Annie Murphy.
Also making noise today is Hamilton from Disney+, with the filmed version of the Broadway smash scoring a Best Picture – Musical or Comedy nom along with a Best Actor shout-out for Lin-Manuel Miranda.
Like the rest of the award-show staples this year, the pandemic has forced shifts to both timelines and eligibility rules. The 78th annual Golden Globes ceremony on NBC is usually in January, but with the Oscars' movie to April 25 this years Globes are set for February 28 (the old Oscars date). Tina Fey and Amy Poehler return to host and will do so separately in a ceremony hosted live in New York (by Fey) and in Los Angeles (by Poehler).
Here is the full list of nominees:
MOTION PICTURES
BEST MOTION PICTURE – DRAMA
THE FATHER (Trademark Films; Sony Pictures Classics)
MANK (Netflix; Netflix)
NOMADLAND (Highwayman / Hear/Say / Cor Cordium; Searchlight Pictures)
PROMISING YOUNG WOMAN (LuckyChap Entertainment / FilmNation Entertainment; Focus Features)
THE TRIAL OF THE CHICAGO 7 (Marc Platt Productions / Dreamworks Pictures; Netflix)
BEST PERFORMANCE BY AN ACTRESS IN A MOTION PICTURE – DRAMA
VIOLA DAVISMA RAINEY'S BLACK BOTTOM
ANDRA DAYTHE UNITED STATES VS. BILLIE HOLIDAY
VANESSA KIRBYPIECES OF A WOMAN
FRANCES MCDORMANDNOMADLAND
CAREY MULLIGANPROMISING YOUNG WOMAN
BEST PERFORMANCE BY AN ACTOR IN A MOTION PICTURE – DRAMA
RIZ AHMEDSOUND OF METAL
CHADWICK BOSEMANMA RAINEY'S BLACK BOTTOM
ANTHONY HOPKINSTHE FATHER
GARY OLDMANMANK
TAHAR RAHIMTHE MAURITANIAN
BEST MOTION PICTURE – MUSICAL OR COMEDY
BORAT SUBSEQUENT MOVIEFILM(Four By Two Films; Amazon Studios)
HAMILTON(Walt Disney Pictures / RadicalMedia / 5000 Broadway Productions / NEVIS Productions / Old 320 Sycamore Pictures; Walt Disney Studios Motion Pictures)
MUSIC(Pineapple Lasagne Productions / Landay Entertainment; Vertical Entertainment / IMAX)
PALM SPRINGS(Party Over Here / Limelight Productions; NEON / Hulu)
THE PROM(Netflix / Dramatic Forces / Storykey Entertainment; Netflix)
BEST PERFORMANCE BY AN ACTRESS IN A MOTION PICTURE – MUSICAL OR COMEDY
MARIA BAKALOVABORAT SUBSEQUENT MOVIEFILM
KATE HUDSONMUSIC
MICHELLE PFEIFFERFRENCH EXIT
ROSAMUND PIKEI CARE A LOT
ANYA TAYLOR-JOYEMMA
BEST PERFORMANCE BY AN ACTOR IN A MOTION PICTURE – MUSICAL OR COMEDY
SACHA BARON COHENBORAT SUBSEQUENT MOVIEFILM
JAMES CORDENTHE PROM
LIN-MANUEL MIRANDAHAMILTON
DEV PATELTHE PERSONAL HISTORY OF DAVID COPPERFIELD
ANDY SAMBERGPALM SPRINGS
BEST MOTION PICTURE – ANIMATED
THE CROODS: A NEW AGE(DreamWorks Animation; Universal Pictures)
ONWARD(Walt Disney Pictures / Pixar Animation Studios; Walt Disney Studios Motion Pictures)
OVER THE MOON(Netflix / Pearl Studio / Glen Keane Productions; Netflix)
SOUL(Walt Disney Pictures / Pixar Animation Studios; Walt Disney Studios Motion Pictures)
WOLFWALKERS(Cartoon Saloon / Melusine; Apple / GKIDS)
BEST MOTION PICTURE – FOREIGN LANGUAGE
ANOTHER ROUND (DENMARK)(Zentropa Entertainments; Samuel Goldwyn Films)
LA LLORONA (GUATEMALA / FRANCE)(La Casa de Producción / Les Films du Volcan; Shudder)
THE LIFE AHEAD (ITALY)(Palomar; Netflix)
MINARI (USA)(Plan B; A24)
TWO OF US (FRANCE / USA)(Paprika Films; Magnolia Pictures)
BEST PERFORMANCE BY AN ACTRESS IN A SUPPORTING ROLE IN ANY MOTION PICTURE
GLENN CLOSEHILLBILLY ELEGY
OLIVIA COLMANTHE FATHER
JODIE FOSTERTHE MAURITANIAN
AMANDA SEYFRIEDMANK
HELENA ZENGELNEWS OF THE WORLD
BEST PERFORMANCE BY AN ACTOR IN A SUPPORTING ROLE IN ANY MOTION PICTURE
SACHA BARON COHENTHE TRIAL OF THE CHICAGO 7
DANIEL KALUUYAJUDAS AND THE BLACK MESSIAH
JARED LETOTHE LITTLE THINGS
BILL MURRAYON THE ROCKS
LESLIE ODOM JRONE NIGHT IN MIAMI
BEST DIRECTOR – MOTION PICTURE
EMERALD FENNELLPROMISING YOUNG WOMAN
DAVID FINCHERMANK
REGINA KINGONE NIGHT IN MIAMI
AARON SORKINTHE TRIAL OF THE CHICAGO 7
CHLOÉ ZHAONOMADLAND
BEST SCREENPLAY – MOTION PICTURE
EMERALD FENNELLPROMISING YOUNG WOMAN
JACK FINCHERMANK
AARON SORKINTHE TRIAL OF THE CHICAGO 7
FLORIAN ZELLER, CHRISTOPHER HAMPTONTHE FATHER
CHLOÉ ZHAONOMADLAND
BEST ORIGINAL SCORE – MOTION PICTURE
ALEXANDRE DESPLATTHE MIDNIGHT SKY
LUDWIG GÖRANSSONTENET
JAMES NEWTON HOWARDNEWS OF THE WORLD
TRENT REZNOR, ATTICUS ROSSMANK
TRENT REZNOR, ATTICUS ROSS, JON BATISTESOUL
BEST ORIGINAL SONG – MOTION PICTURE
"FIGHT FOR YOU" — JUDAS AND THE BLACK MESSIAHMusic by: H.E.R., Dernst Emile IILyrics by: H.E.R., Tiara Thomas
"HEAR MY VOICE" — THE TRIAL OF THE CHICAGO 7Music by: Daniel PembertonLyrics by: Daniel Pemberton, Celeste Waite
"IO SÌ (SEEN)" — THE LIFE AHEADMusic by: Diane WarrenLyrics by: Diane Warren, Laura Pausini, Niccolò Agliardi
"SPEAK NOW" — ONE NIGHT IN MIAMIMusic by: Leslie Odom Jr, Sam AshworthLyrics by:vLeslie Odom Jr, Sam Ashworth
"TIGRESS & TWEED" — THE UNITED STATES VS. BILLIE HOLIDAYMusic by: Andra Day, Raphael SaadiqLyrics by:vAndra Day, Raphael Saadiq
BEST TELEVISION SERIES – DRAMA
THE CROWN – NETFLIX(Left Bank Pictures / Sony Pictures Television)
LOVECRAFT COUNTRY – HBO(HBO / Afemme / Monkeypaw / Bad Robot / Warner Bros. Television)
THE MANDALORIAN – DISNEY+(Lucasfilm Ltd.)
OZARK – NETFLIX(MRC Television)
RATCHED – NETFLIX(Fox21 Television Studios)
BEST PERFORMANCE BY AN ACTRESS IN A TELEVISION SERIES – DRAMA
OLIVIA COLMANTHE CROWN
JODIE COMERKILLING EVE
EMMA CORRINTHE CROWN
LAURA LINNEYOZARK
SARAH PAULSONRATCHED
BEST PERFORMANCE BY AN ACTOR IN A TELEVISION SERIES – DRAMA
JASON BATEMANOZARK
JOSH O'CONNORTHE CROWN
BOB ODENKIRKBETTER CALL SAUL
AL PACINOHUNTERS
MATTHEW RHYSPERRY MASON
BEST TELEVISION SERIES – MUSICAL OR COMEDY
EMILY IN PARIS – NETFLIX(Darren Star Productions / Jax Media / MTV Studios)
THE FLIGHT ATTENDANT – HBO MAX(HBO Max / Berlanti Productions / Yes, Norman Productions / Warner Bros. Television)
THE GREAT – HULU(Hulu / Civic Center Media / MRC)
SCHITT'S CREEK – POP TV(Not A Real Company Productions / Canadian Broadcast Company / Pop TV)
TED LASSO – APPLE TV+(Apple / Doozer Productions / Warner Bros. Television / Universal Television)
BEST PERFORMANCE BY AN ACTRESS IN A TELEVISION SERIES – MUSICAL OR COMEDY
LILY COLLINSEMILY IN PARIS
KALEY CUOCOTHE FLIGHT ATTENDANT
ELLE FANNINGTHE GREAT
JANE LEVYZOEY'S EXTRAORDINARY PLAYLIST
CATHERINE O'HARASCHITT'S CREEK
BEST PERFORMANCE BY AN ACTOR IN A TELEVISION SERIES – MUSICAL OR COMEDY
DON CHEADLEBLACK MONDAY
NICHOLAS HOULTTHE GREAT
EUGENE LEVYSCHITT'S CREEK
JASON SUDEIKISTED LASSO
RAMY YOUSSEFRAMY
BEST TELEVISION LIMITED SERIES, ANTHOLOGY SERIES OR MOTION PICTURE MADE FOR TELEVISION
NORMAL PEOPLE – HULU(Hulu / BBC / Element Pictures)
THE QUEEN'S GAMBIT – NETFLIX(Netflix)
SMALL AXE – AMAZON STUDIOS(BBC Studios Americas, Inc / Amazon Studios)
THE UNDOING – HBO(HBO / Made Up Stories / Blossom Films/David E. Kelley Productions)
UNORTHODOX – NETFLIX(Studio Airlift / RealFilm)
BEST PERFORMANCE BY AN ACTRESS IN A LIMITED SERIES, ANTHOLOGY SERIES OR A MOTION PICTURE MADE FOR TELEVISION
CATE BLANCHETTMRS. AMERICA
DAISY EDGAR-JONESNORMAL PEOPLE
SHIRA HAASUNORTHODOX
NICOLE KIDMANTHE UNDOING
ANYA TAYLOR-JOYTHE QUEEN'S GAMBIT
BEST PERFORMANCE BY AN ACTOR IN A LIMITED SERIES, ANTHOLOGY SERIES OR A MOTION PICTURE MADE FOR TELEVISION
BRYAN CRANSTONYOUR HONOR
JEFF DANIELSTHE COMEY RULE
HUGH GRANTTHE UNDOING
ETHAN HAWKETHE GOOD LORD BIRD
MARK RUFFALOI KNOW THIS MUCH IS TRUE
BEST PERFORMANCE BY AN ACTRESS IN A TELEVISION SUPPORTING ROLE
GILLIAN ANDERSONTHE CROWN
HELENA BONHAM CARTERTHE CROWN
JULIA GARNEROZARK
ANNIE MURPHYSCHITT'S CREEK
CYNTHIA NIXONRATCHED
BEST PERFORMANCE BY AN ACTOR IN A TELEVISION SUPPORTING ROLE
JOHN BOYEGASMALL AXE
BRENDAN GLEESONTHE COMEY RULE
DANIEL LEVYSCHITT'S CREEK
JIM PARSONSHOLLYWOOD
DONALD SUTHERLANDTHE UNDOING
NOMINATIONS SCORECARD
NOMINATIONS BY MOTION PICTURE DISTRIBUTOR
Netflix – 22Amazon Studios – 7Focus Features – 5Searchlight Pictures – 5Sony Pictures Classics – 5Walt Disney Studios Motion Pictures – 5Warner Bros. Pictures – 4Universal Pictures – 3Hulu – 2Neon/ Hulu – 2STXfilms – 2Vertical Entertainment / Imax – 2A24 – 1Apple / A24 – 1Apple / Gkids – 1Magnolia Pictures – 1Samuel Goldwyn Films – 1Shudder – 1
NOMINATIONS BY MOTION PICTURE
Mank – 6The Trial of the Chicago 7 – 5The Father – 4Nomadland – 4Promising Young Woman – 4Borat Subsequent Moviefilm – 3One Night In Miami – 3Hamilton – 2Judas and the Black Messiah – 2The Life Ahead – 2Ma Rainey's Black Bottom – 2The Mauritanian – 2Music – 2News of the World – 2Palm Springs – 2The Prom – 2Soul – 2The United States vs. Billie Holiday – 2Another Round – 1The Croods: A New Age – 1Emma – 1French Exit – 1Hillbilly Elegy – 1I Care a Lot – 1La Llorona – 1The Little Things – 1The Midnight Sky – 1Minari – 1On the Rocks – 1Onward – 1Over The Moon – 1The Personal History of David Copperfield – 1Pieces of a Woman – 1Sound of Metal – 1Tenet – 1Two of Us – 1Wolfwalkers – 1
NOMINATIONS BY TV DISTRIBUTOR
Netflix – 20HBO – 7Hulu – 6Pop TV – 5Showtime – 5Amazon Studios – 3Apple TV+ – 2HBO Max – 2AMC – 1BBC America – 1Disney+ – 1FX Networks – 1NBC – 1
NOMINATIONS BY TELEVISION SERIES OR PROGRAM
The Crown – 6Schitt's Creek – 5Ozark – 4The Undoing – 4The Great – 3Ratched – 3The Comey Rule – 2Emily in Paris – 2The Flight Attendant – 2Normal People – 2The Queen's Gambit – 2Small Axe – 2Ted Lasso – 2Unorthodox – 2Better Call Saul – 1Black Monday – 1The Good Lord Bird – 1Hollywood – 1Hunters – 1I Know This Much Is True – 1Killing Eve – 1Lovecraft Country – 1The Mandalorian – 1Mrs. America – 1Perry Mason – 1Ramy – 1Your Honor – 1Zoey's Extraordinary Playlist – 1