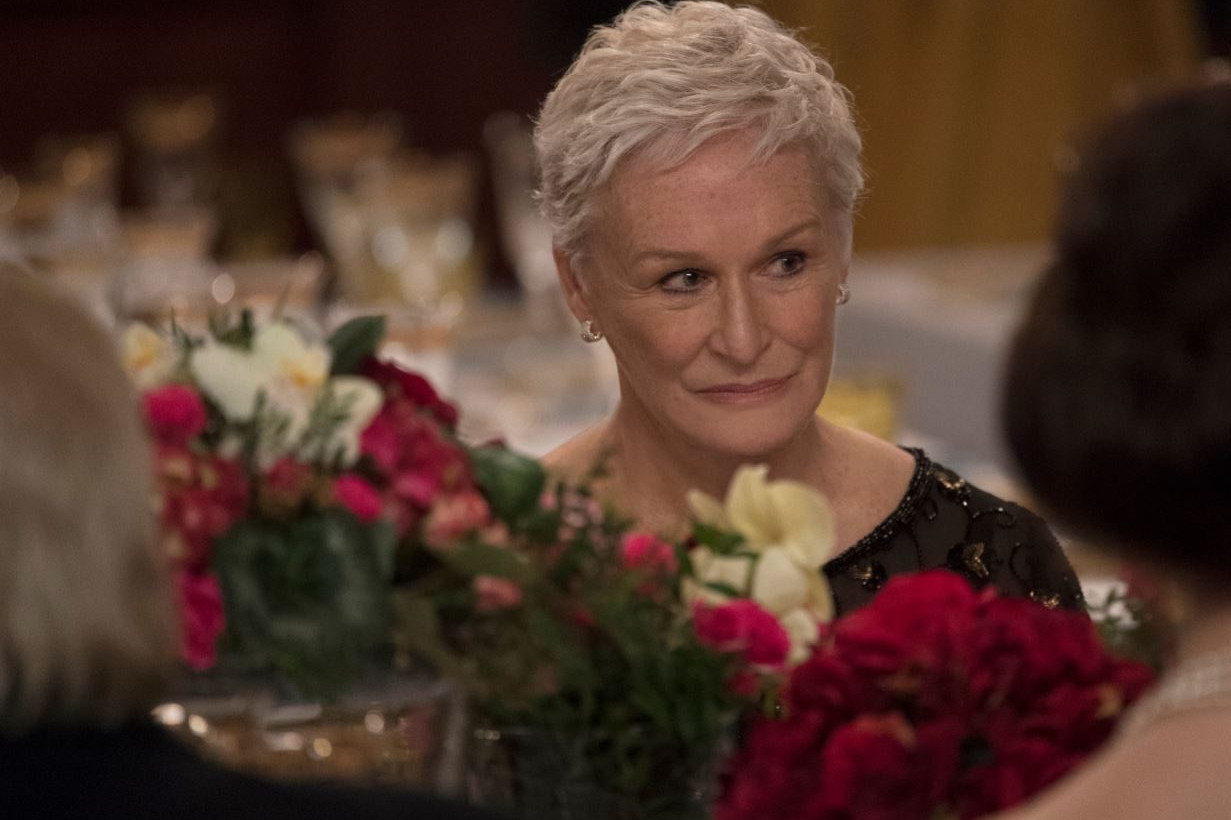 GLENN CLOSE ON HOW 'THE WIFE' TAPPED INTO THE #METOO MOVEMENT
1st Feb, 2019
GLENN CLOSE ON HOW 'THE WIFE' TAPPED INTO THE #METOO MOVEMENT
1st Feb, 2019
Screen Daily by Wendy Mitchell
The Wife's story of female empowerment has tapped into the cultural zeitgeist in a way its star Glenn Close experienced with Fatal Attraction. She talks to Screen about serendipity, connecting with an audience and the power of a close-up.
Glenn Close is not surprised The Wife has struck a nerve with audiences. "When we shot the film, there was no such thing as the #MeToo movement. By the time it was released, #MeToo was starting to send ripples… you can't really plan that," she says.
The Wife tells the story of Joan Castleman, a woman who reaches breaking point just as her husband Joe (Jonathan Pryce) is about to receive the Nobel Prize for literature. The story's themes of a long-silenced wife speaking up for herself could have been perfectly timed to the contemporary mindset.
"It's the same thing that happened with Fatal Attraction," Close says. "It came at a time when there was this underlying anger between the sexes. [The Wife] is doing a similar thing in an important time in our cultural history."
She knows it is "incredible serendipity" The Wife landed at that moment. After all, writer and executive producer Jane Anderson and producer Rosalie Swedlin first started planning the project — based on Meg Wolitzer's 2003 novel of the same name — 15 years ago.
Close attached herself to star in the film about five years ago, and it was her involvement that helped get it made (although even her star power could not get it greenlit immediately). Finally, it came together as a UK-Sweden co-production from Anonymous Content, Meta Film, Tempo Productions, Silver Reel and Spark Film and Television.
Close encounters
Close had the final say in hiring Swedish director Björn Runge, who made his English-language debut with The Wife. "He was one of the best directors I've ever worked with," she says, praising "the atmosphere on the set, the work we did before the shoot, his trust in me and my trust in him.
"The great directors know where to put the camera to record what that actor is doing, and that keeps the connection with the audience," she explains.
For Close, part of the reason her performance is attracting so much attention — a Golden Globe win along with SAG, Bafta and Oscar nominations — is because of the intimate approach Runge brought to the film. "It's a film with a lot of close-ups," she says. "If it wasn't so beautifully shot, my performance wouldn't have the impact it does."
Her performance as Joan is not showy or histrionic. "Most of the role is quiet," Close says. "The way I approach it is to create in my imagination the world of this person… I've learned over the years how powerful thought can be on film. No other art form has the close-up, which is seeing emotions go across a human being's face in real time. There is nothing more powerful than two eyes [the actor] looking into two eyes [of the audience member]. That's gold."
Close is also effusive about Pryce. "I was so excited to work with him. We had a great partnership," she says.
The actress was grateful for a week of pre-production discussions with Runge, Anderson and Pryce, as well as Annie Starke (Close's daughter) who plays Joan in her younger years. Through Starke's performance the audience sees Joan's literary ambitions, which were abandoned to support her husband's while she became the wife and mother and he became the successful writer.
Making connections
Before The Wife, Close had been Oscar-nominated for Albert Nobbs, Dangerous Liaisons, Fatal Attraction, The Natural, The Big Chill and The World According To Garp. Her seventh nomination feels like her time has come, although she is nominated in a year full of strong contenders including Lady Gaga for A Star Is Born and Olivia Colman for The Favourite.
Close does not sound at all obsessed with finally getting her hands on the gold statuette, instead focusing on the positive response audiences have had to The Wife. "I think human beings perish without connection. To feel something that you've done with a team of people has had a profound connection — that is deeply gratifying. It's not about awards, it's about individuals feeling connected to a story and having it mean something to them in their lives. You can't ask for better than that."
At 71, Close seems busier than ever — she is hoping to shoot the film version of stage musical Sunset Boulevard this year, although the film's director has not yet been announced. She is also ready to go back into producing, after previously producing a string of TV movies in the 1990s and her passion project, 2011's Albert Nobbs. "I love creating that mix of a company and a cast, it's very organic and chemical," she says of producing. "I love putting people together."
And she might just be ready to make her directing debut. "It's a script I want to write or co-write," she says, adding that she will have to "disappear" for a few months to have time to concentrate on such a project.
Whatever comes next, Close is clearly relishing this moment in her career and the chance to talk about feminism in Hollywood. "I have never been prouder to be part of what I'm part of," she says. "I see that things are shifting, there's more diversity, more attention to women's voices, and I think it will have a lasting effect. It won't take care of itself — it will take a lot of deliberate support. But things are changing, I feel it in my bones."