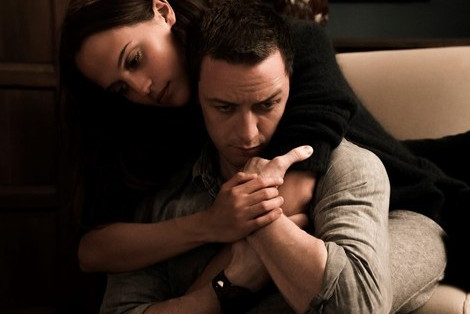 FIRST LOOK: JAMES MCAVOY AND ALICIA VIKANDER IN 'SUBMERGENCE'
11th May, 2016
FIRST LOOK: JAMES MCAVOY AND ALICIA VIKANDER IN 'SUBMERGENCE'
11th May, 2016
Screen Daily by Michael Rosser
EXCLUSIVE: Wim Wenders' romantic thriller recently secured 30+ sales.
A first glimpse at romantic thriller Submergence shows X-Men star James McAvoy and Alicia Vikander, in her first role after winning the Oscar, in an intense embrace.
Embankment is selling the Wim Wenders-directed feature at Cannes this week, having already secured deals in more than 30 territories since Berlin's European Film Market in February, including the UK (Lionsgate); France (Mars/Selective); Germany (NFP/Warners); Spain (Antenna 3); Canada (Elevation); and Latin America (California). Further deals are pending.
Adapted by Erin Dignam from the novel by JM Ledgard,Submergence is the story of James More (McAvoy), a water engineer who is taken hostage in Somalia by Jihadist fighters who suspect that he is a British spy. Danielle 'Danny' Flinders (Vikander) is a bio-mathematician working on a deep sea diving project to support her theory of the origin of life on the planet.
The two had met just a few weeks earlier, in an isolated hotel on the Atlantic coast, where they were both preparing for their dangerous missions. Now worlds apart, unable to reach each other, the film follows Danny as she descends in a submersible to the ocean floor, without even knowing if James is still alive.
Cameron Lamb is producing through Lila 9th Productions with Neue Road Movie Dritte Produktionen and Backup Media, who are also financing. Co-producers are Morena Films and Umedia.
Filming is underway in France before moving to Germany, Spain and Africa.
UTA Independent Film Group packaged the project and is handling the US sale.