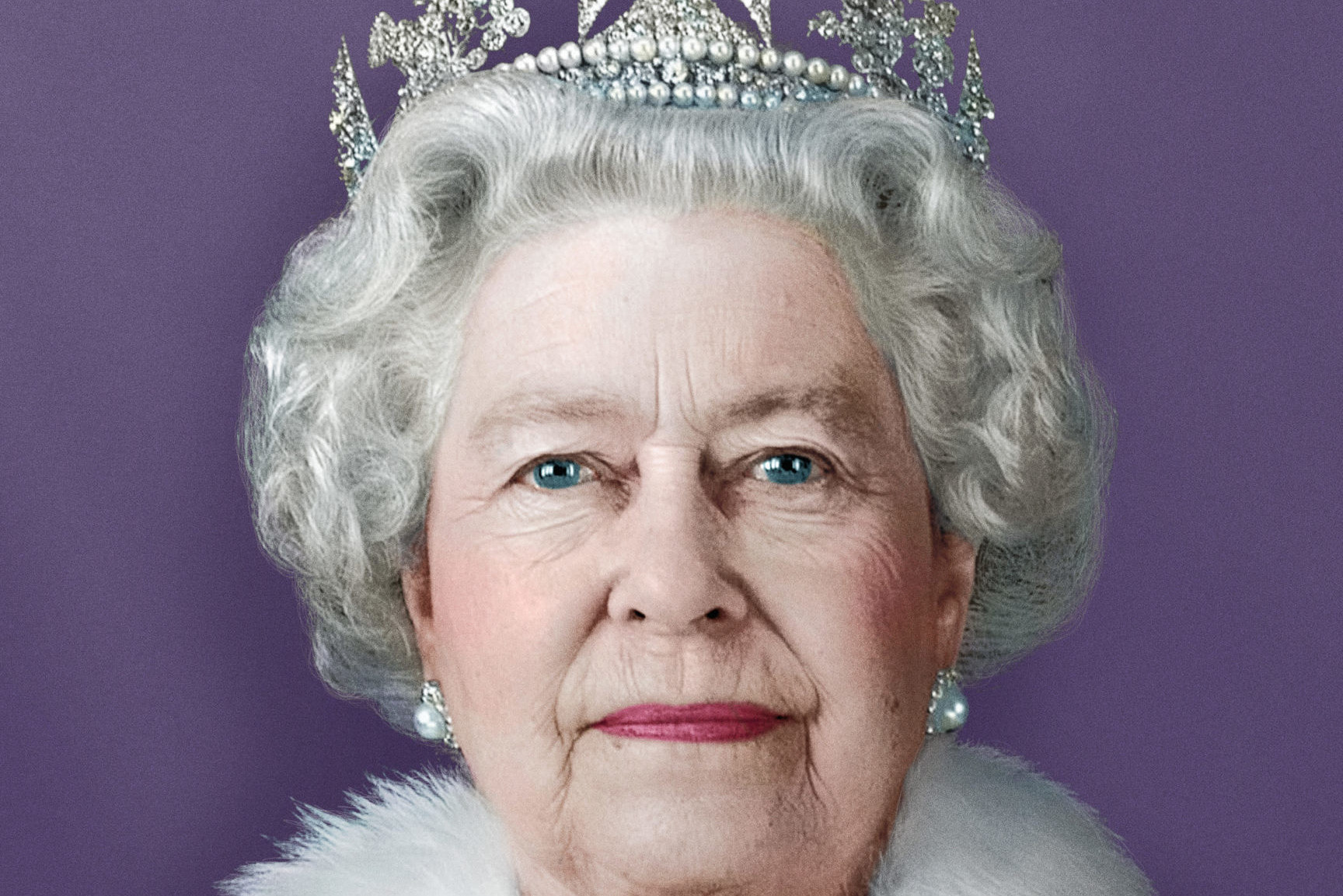 ELIZABETH: A PORTRAIT IN PART(S): 'MISCHIEVOUS WITHOUT BEING DISRESPECTFUL'
15th Mar, 2022
ELIZABETH: A PORTRAIT IN PART(S): 'MISCHIEVOUS WITHOUT BEING DISRESPECTFUL'
15th Mar, 2022
We are about to be swamped by tributes for the Queen's Platinum Jubilee but surely none will capture the resilience, tedium and absurdity of her 70 years on the throne as wittily as Elizabeth: A Portrait in Part(s). Roger Michell's feature-length documentary, the last film the urbane director of Notting Hill made before his death last year at 65, is engaged without being fawning, nostalgic but never indulgent and unafraid to have the odd gentle joke at Her Majesty's expense.
Footage of her golden barge at the Diamond Jubilee is intercut with a clip of Elizabeth Taylor as Cleopatra; shots of her subjects with a hive of bees; the section on Andrew, Harry and Meghan with collapsing buildings. The film swings dreamily between the surreal — "We're deeply honoured to say, 'Your Majesty, welcome to Crackerjack!' " — and the hilariously boring, as David Cameron briefs her about a tractor factory in Basildon.
"Roger always wanted to do something about the Queen, although he was not a monarchist in any political sense. The admiration for both of us was around her," says Kevin Loader, Michell's friend and producer of 30 years, when we meet at a film production company in central London. Loader, 66, made Enduring Love, The Mother and My Cousin Rachel with Michell, as well as The Death of Stalin with Armando Iannucci and The History Boys with Nicholas Hytner. "I think the institution may not have survived if it hadn't been for her," he says. "She was Queen when I was born, she's still Queen, but the times around her have moved and swirled so much."
About the guiding principles of the film, Loader says: "It wasn't going to be conventional, chronological or have talking heads, and it was going to be mischievous without, we hoped, being disrespectful." In his director's statement, Michell described the Queen as "the stuff of our dreams, our projections, our sense of ourselves, by far the most famous female face in the history of the world. More people dream about the Queen than any other living person. She's the Mona Lisa, instantly recognisable, and yet elusively and perpetually unknowable."
There was at least plenty of footage to pore over for clues. It's telling that the editor, Joanna Crickmay, is credited first at the end of the film, and Loader salutes the archivists who rummaged through almost a century's worth of film. Some of the montages are hypnotic — the Queen saying "My husband and I" over and over across the decades, riding dozens of horses, watching scores of tribal dances. Some clips were 90 years old but even those from the Silver Jubilee in 1977 "feel like a different era", Loader says.
Footage came from sources ranging from the Palace archive to Elizabeth R, the 1992 documentary for which Edward Mirzoeff was granted wide-ranging access. Mirzoeff was a consultant on the new film and told Loader about trying to operate a video recorder with the Queen and Prince Philip. "None of them could get it to work." The mundane details are strangely juicy. There is the apocryphal story about Margaret Thatcher doing the washing up at Balmoral. "Thatcher said, 'Oh, let me' and the Queen apparently said, 'Don't take away one of my few pleasures.' "
This film has plenty of unguarded moments like that. "Fortunately my father and I had about the same-shaped head," the Queen says of wearing the Tudor Crown as Stormzy sings "Heavy is the head…" on the soundtrack. Chitchatting with the camera crew before recording her Christmas message, she asks if her outfit is OK, then adds, "It would be awful if you said no." Receiving Lech Walesa, then the new president of Poland, she confides that "he's amazed by the size of everything". She never looks happier than when she is watching her horses race, waving her arms around like a schoolgirl.
Again, though, it's the cheeky stuff that often resonates the most. Dawn French, in a clip from a chat show, pokes fun at people's obsequiousness, how a royal question as bland as "Did you enjoy it?" will be greeted by roars of hilarity. Paul McCartney remembers seeing the young Queen as "a babe. Just look at the heave on her!" Let's hope HM isn't familiar with that bit of Scouse slang.
Maybe she would enjoy it, so sick must she be of stultifying encounters. "When one is on one's best behaviour, one isn't always at one's best," as Alan Bennett wrote about the excruciating "all-walks-of-life" lunches where actors, scientists and greengrocers are invited to break the royal bread. "I talked to Nick Hytner about it, actually, because he had been to one of those lunches and they're just as Alan describes," Loader says.
Talks with the Palace were always cordial, he says. "There was never a discussion of red lines. They just want to make sure that the context you're using the footage in isn't outrageous. But they never tried to tell us what to do with it, and they never withheld anything we asked for." Even though the battles with Meghan and Harry were raging. "Our pitch was always: we're not that interested in the various entanglements around the Queen's children, we're interested in her."
What persuaded the Queen's grandees, Loader thinks, was that Michell was "one of the most significant British film directors of the last 30 years. They get a million requests for television documentaries, but they have not really ever had to deal with a request for a feature film that would sort of go global. This is going to go to cinemas everywhere, it's not just going to be on Channel Five on Saturday night."
The film started as a project during lockdown, when making drama had become tricky. Michell had only directed three previous documentaries, Loader says, and they were all about actors — one on Michael Redgrave, another on the Indian star Harish Patel and Nothing Like a Dame, about Eileen Atkins, Judi Dench, Joan Plowright and Maggie Smith. "Part of him thought, 'There's a lot of common ground between being the Queen and being an actor.' " Loader points to the footage in which a palace flunky tutors guests on where to put their hands and feet when meeting the Queen. "That ballet of pageant is very much what you'd come across in the theatre."
This really was Michell's last act, being essentially finished the day before he died in September. "In the morning we did the final review of the final mix and we finished it about 12 o'clock in Soho," Loader says. "I said, 'Have you got time for a quick lunch?' And he said, 'I've got to pick up the girls from school.' " They were Michell's two daughters by his second wife, the actress Anna Maxwell Martin. He died later that day; no cause of death was announced but he had suffered from heart problems. The funeral was "magnificent", Loader says, with about 400 people including Danny Boyle, Simon Curtis and John Madden cramming into St John-at-Hampstead. "As Roger's son said at the funeral, 'Dad loved churches. God, not so much.' "
Loader met Michell when they were at Cambridge University in the Seventies. "There were two star directors in the student theatre world at Cambridge at that point — Roger was one and Nick Hytner was the other," he says. "I was slightly scared of how clever Roger was, although not at all in an ostentatious way. You learnt pretty quickly that he probably knew more than you did about most things." Michell was garrulous and subversive too. When I interviewed him about My Cousin Rachel, in which Rachel Weisz's middle-aged woman seduces Sam Claflin's twentysomething, he said: "I wanted it to be like he's f***ing his mum."
Michell and Loader first worked together at the BBC, on series including The Buddha of Suburbia. "He was very hard to develop for because you never knew quite what would interest him," Loader says. It could be film or theatre, drama or comedy, period or contemporary but "it was always perfectly pitched. People who work a lot in theatre really get under the skin of the text."
Yet the intellect and versatility didn't come with ego. "He always had the right in all the contracts I did with him to have 'a Roger Michell film at the start, but he rarely took it." That and his eclecticism, Loader thinks, explain why "he's not thought to be an auteur in the way that Ken Loach or even Danny Boyle is. But there's not a film we made that I'm not incredibly proud of. As somebody who affects not to care —but we both did care — we usually did get four or five-star reviews."
That run should continue with this film, which arrives at a delicate point in the 95-year-old monarch's reign. Loader, though, thinks the royals' future is more secure. "They've always had their separate camps and palaces and it's all been a bit divide-and-rule but you sense that since the Prince Andrew affair there's been a circling of the wagons," he says. "I think everyone inherently knows that Charles and William are cut from the same cloth. You do wonder whether the Boris Johnson era has actually strengthened the monarchy because it made the alternative, which is an elected presidency of some sort, just look impossible."
We are speaking a few days before Elizabeth: A Portrait in Part(s) has its world premiere — "in Luxembourg, of all places", Loader says. "My wife said to me, 'Do you want to go?' I said, 'Nah, I'm not going to goon my own.' If Roger was around, of course we'd have gone together and had a big nosh afterwards." He misses his friend, who — in his field, at least — was as beloved as the subject of his last film.
Elizabeth: A Portrait in Part(s) is in cinemas from May 27 and on Prime Video from June 1