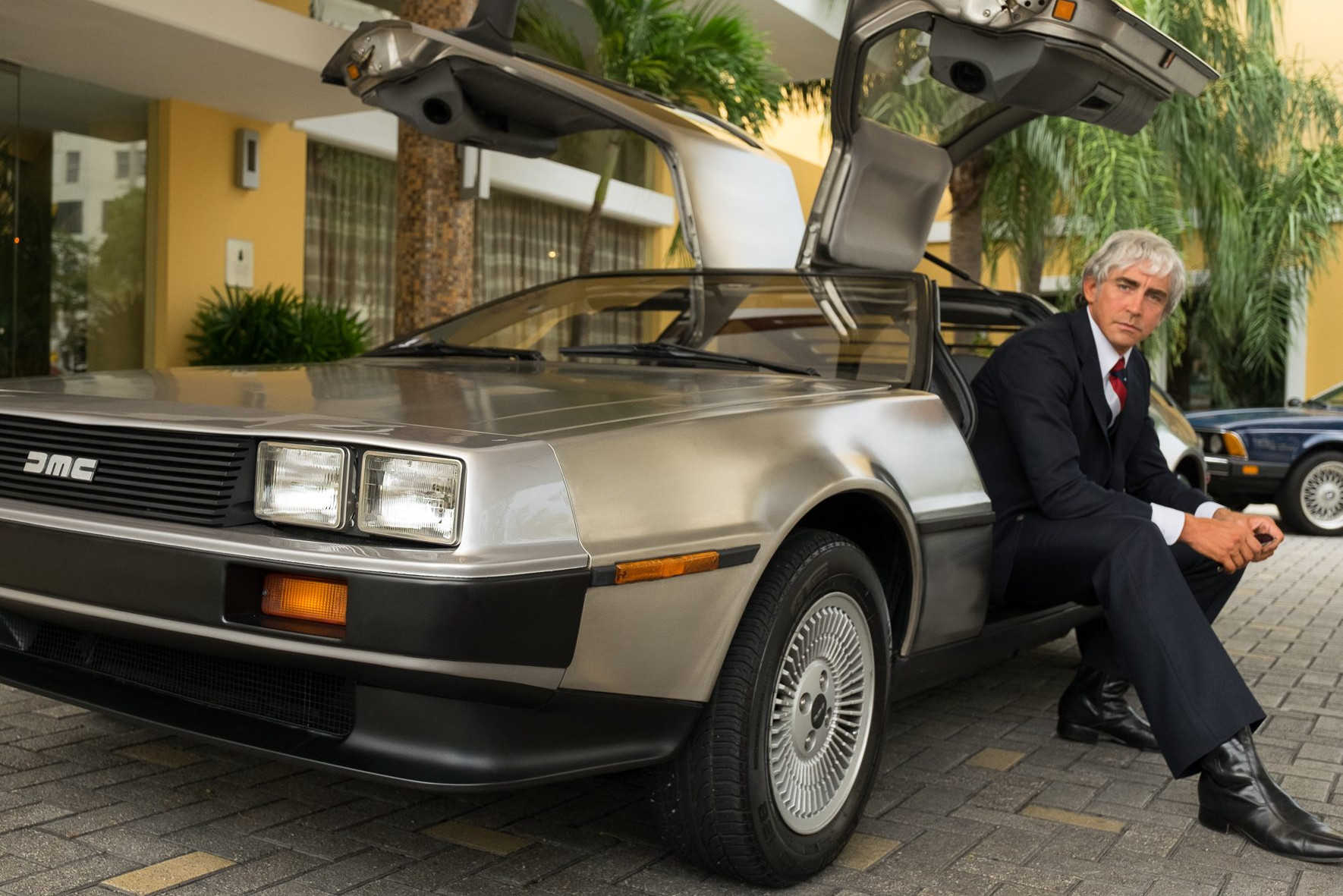 DRIVEN: VENICE REVIEW
12th Sep, 2018
DRIVEN: VENICE REVIEW
12th Sep, 2018
The story of automobile designer and entrepreneur John DeLorean's decline and fall becomes a comedy-tinged buddy movie with a twist in Nick Hamm's follow-up to another very different male-bonding saga, The Journey. Once again, two fine central performances bring a clever Colin Bateman script alive, with Jason Sudeikis injecting a well of emotional depth to his portrayal of a scuzzy FBI informant with a small but troubling conscience. And Lee Pace, playing a man 20 years the actor's senior, channels the smooth, honey-voiced spirit of a car CEO who turned his whole life into a performance.
Driven was shown at Venice alongside a short making-of documentary about returning to Puerto Rico in the immediate aftermath of Hurricane Maria, which hit the film's locations five days into shooting. The quality of this package, the extra media traction generated by its difficult gestation, and the humanitarian response of crew and producers onsite won't harm a movie that could provide Hamm with his most commercial theatrical release to date.
Filmed under testing conditions, Driven carries no story ballast, moving between a handful of locations, painting the central characters' kids almost entirely out of the picture and opting not to take us to the factory in Belfast which produced DeLorean's ill-fated DMC-12 gull-wing car (as featured in Back to the Future). But this claustrophobic, hothouse approach serves the film well because, beneath its expansive American Hustle exterior, this is actually a rather intimate chamber comedy set at the end of an era, the late 1970s Californian fever dream of an industry launched by the Model-T Ford.
Sudeikis plays an embroidered version of Jim Hoffman, the FBI informant and DeLorean neighbour who was instrumental in setting up the sting operation that would see the automotive CEO charged with cocaine trafficking in October 1982. With his Burt Reynolds-style moustache and garishly patterned wing collar shirts worn a size too tight, Jim is a slightly incompetent, anxious chancer, a former pilot who has wriggled out of an FBI drug running charge by turning informant.
His tough FBI minder Benedict Tissa (Corey Stoll) persuades the reluctant snitch to wear a wire to help him nail a flash drug baron (Michael Cudlitz, beaming genial menace). Meanwhile, Jim and his long-suffering wife Ellen (Judy Greer, excellent) have befriended their grand, glamorous Los Angeles neighbours John and Cristina DeLorean (Lee Pace and Isabel Arraiza) – and even to those viewers who know little about the DeLorean story, it will be clear as a disco mirror ball that all the main players – informant, drug dealer, car guy and ambitious FBI agent – are going to converge soon enough.
Energetically paced, the film cracks through the story, deftly weaving in a series of flash-forwards in which we see Hoffman being cross-examined in the dock at the DeLorean trial. And if we never get an overview of the Beverly Hills style suburb where the Hoffmans and the DeLoreans live, Driven is good on how something in the air of this time and place could throw a former General Motors vice-president and an unemployed pilot together in the same street. Both men are living on credit, on borrowed time, and although their financial status is so unequal that Hoffman ends up looking after the car magnate's pool while he's away, both men's recognition of themselves in the other fuels their awkward male friendship.
Pace plays DeLorean as a suave charmer who always has his radio voice on, but there's a vulnerability in his character, a neediness that will emerge as his new self-named company goes off the rails and the balance of power between the two men shifts. But it's Sudeikis' Hoffman who is the more fascinating of the two: a steely realism lurks just beneath his cowardly exterior, and a tragic awareness that he's hurting the ones he loves behind his comic schmuck routine.
Production design, costumes, hair and make-up play up the brash confidence of an era that seems as distant and doomed as DeLorean's visionary gull-wing car. The colour palette is particularly spry, with Hoffman's apricot suit and the orange banquettes of the diner where he meets his improbably-disguised FBI minder provoking nostalgia and nausea in more or less equal measure.