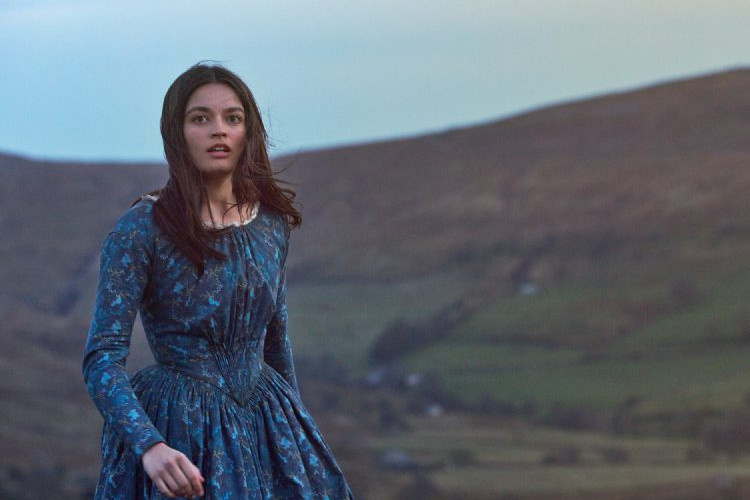 CRITIC'S PICK: 'EMILY' REVIEW: A BRONTË SISTER'S SAVAGE, HARDY AND FREE LIFE
22nd Feb, 2023
CRITIC'S PICK: 'EMILY' REVIEW: A BRONTË SISTER'S SAVAGE, HARDY AND FREE LIFE
22nd Feb, 2023
The New York Times by Manohla Dargis
Blending fact with generous, liberating fiction, the director Frances O'Connor brings the author of "Wuthering Heights" to pleasurable life.
Recluse, genius, rebel, muse — a multitude of Emily Brontës crowd the cultural imagination. She was kind, cruel, reserved and wild. Her eyes were gray, though sometimes blue, if perhaps gray-blue or hazel. Her sister Charlotte wrote that Emily, who knew French and German, played Beethoven on the piano, studied in Brussels and, well, wrote "Wuthering Heights," was a "homebred country girl" with "no worldly wisdom." Yet Charlotte also wrote that Emily had "a secret power and fire that might have informed the brain and kindled the veins of a hero."
That there is no consensus Emily Brontë — who left behind one novel, some 200 poems, several essays and much mystery when she died at 30 in 1848 — has proved liberating for the writer-director Frances O'Connor. Her "Emily" is a confident directorial debut and an enjoyably irreverent take on Brontë, one that builds on the scant historical record to construct an imaginary, at times wishful portrait of the artist. Despite its attention to the past, the movie isn't an exercise in futile authenticity or a dreary compendium of biopic banalities. It is instead an expression of O'Connor's love for — and desire to understand — her elusive subject.
In detail and sweep, "Emily" nevertheless shares many of the handsome, cozily inviting essentials of a standard biographical work-up. It was shot in Yorkshire, the northern English county where Brontë lived most of her life, and features the frocks, pretty bonnets, candlelit rooms and horse-drawn carriages of the era. There's a somber stone home where Emily — a mercurial, mesmerizing Emma Mackey — and her tightknit family work and dream. And naturally there are the moors that, with their peaks, valleys and undulating grasses changing colors with the moody sky, make a suitably dramatic backdrop for transcendental reveries.
After a brief preface, the story proper opens with Emily on the moors, lying on the ground and idly stroking the grass as she talks to herself. She's narrating a romantic dialogue between a "Captain Sneaky" and an unnamed woman — an apparent reference to the elaborate adventure tales that the Brontë children invented — the faint sounds of military music and soldiers blending in with birdsong and the lightly stirring wind. It's a smart, seductive introduction that nicely sets the tone and mood, establishing Emily's creativity and her contented solitude. She's clearly at home in nature and with herself, but she's also presently on the move, racing across the moors and into O'Connor's adventure.
Working briskly, O'Connor sketches in Emily's world with pictorial beauty, economic scenes, naturalistic conversations, meaningful silences and ricocheting gazes. "Is it nice having friends outside the family?" Emily is soon asking of Charlotte (a tart Alexandra Dowling), who has briefly returned from the boarding school where Emily will study, too, disastrously in her case. Charlotte laughs, replying "of course," but she also scolds Emily for her fantasies and tries to rein her in, creating a tense dynamic that trembles through the movie. Like Emily, Charlotte has her own stories, including, in time, "Jane Eyre," but for the most part the role she plays in this story, fairly or not, is that of the obedient, pinched scold.
O'Connor, an actress who's played her share of period heroines, starred in the 1999 adaptation of Jane Austen's "Mansfield Park," a film that — like this one — takes a frisky approach to its source material. O'Connor's most radical move here is to create a swoony romance for Emily, which begins the moment she lays eyes on William Weightman (a very fine Oliver Jackson-Cohen), a gravely serious young curate with an amusingly flirty forelock. (His eyes say no; his unruly hair says otherwise.) Brought in to help the Brontë paterfamilias, a reverend, Patrick (Adrian Dunbar), William immediately stirs up the congregation, eliciting fluttering coos and stares. He's also enlisted to help Emily with her French. The lessons heat up quickly.
The affair is pleasurably steamy, and however heretical O'Connor's invention, it's nice to see Emily Brontë having a bodice-ripping good time, especially given how steeped in sorrow her real life was. Among the movie's most plaintive sections are those involving her brother, Branwell (Fionn Whitehead), the family's tragic only son. (Amelia Gething plays Anne, the youngest sibling.) In their passionate intensity and in some narrative particulars — there are outdoor rendezvous and some spying through windows — Emily's relationships with both Branwell and Weightman suggestively evoke that between Catherine and Heathcliff in "Wuthering Heights." (It also summons up the glossy 1939 film adaptation.)
Brontë fundamentalists might object; Weightman, for one, was real, the affair apparently not, alas. Yet O'Connor's liberties work for a story that, above all, is about art as an act of radical sovereignty. Building on a series of oppositions — nature and culture, realism and romance, duty and freedom — O'Connor brings Emily the myth to vibrant life, persuasively suggesting that this ostensibly strange and cloistered genius came into being not despite her contradictions but through them. At once a woman of her time and free of its limitations, her Emily is corseted and unrestrained, respectable and scandalous, one of life's astonishing escape artists who endures brute reality only to bend it to her own thrilling ends.