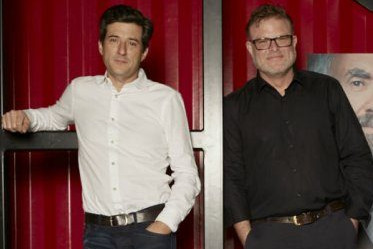 BUILDING EMBANKMENT
10th Jul, 2020
BUILDING EMBANKMENT
10th Jul, 2020
UK feature film financing and distribution specialist Embankment Films is pushing its 'conversion' strategy into feature documentaries, with a new slate of projects unveiled this week.
McQueen looks at the life of fashion designer Alexander McQueen
The role of the television distributor has changed dramatically. It has shifted from a sales executive who simply comes in to sell the finished product beyond its commissioner to a facilitator involved from the very start – piecing together coproductions, securing presales, making up deficit financing and, in some cases, ordering and paying for content up-front that they know they can sell later.
Things have taken a similar turn in independent film. Set up a decade ago and led by partners Hugo Grumbar and Tim Haslam, London-based Embankment Films has become known for financing, preselling and distributing independent movies. Most recently, these have included The Father, starring Anthony Hopkins and Olivia Colman; Military Wives, starring Kristin Scott Tomas and Sharon Horgan; and Oscar-nominated Glenn Close drama The Wife. It's a process Haslam refers to as "conversion" rather than distribution.
"Hugo and I set this company up 10 years ago, basically with two guys and a desk, as a sales agent for independent feature films," Haslam tells C21. "In the last 10 years this role of a sales agent has changed a lot and we now prefer to call ourselves 'converters.' Sales agent is a misnomer; it's a dinosaur term because it sounds very transactional and we're so far beyond that.
"What we're doing now is raising all the money; coproducing in terms of highly advanced involvement in the development of the material. We're executive producing and raising the money by putting the cornerstone presales together in order to finance the film and raising the gap funding. In the TV business, that [also means] getting the commissioning broadcaster or main, big presale or acquisition to commit. And then we're selling the international territories."
Now Embankment is looking to ride a second trend: the popularity of feature documentaries.
There's always been an audience for feature docs, theatrically, at festivals and elsewhere. Big projects, like 2008's Man On Wire, which Haslam and Grumbar were involved in distributing, have sold for big money. But independent documentary making has been a hard slog of pulling together funding for a film that would be near impossible to get in front of people. Factual buyers used to see feature docs as difficult to schedule, market and fit into their strategy.
No more. Driven by its clear popularity and success on streamers like Netflix and Amazon, the genre is now in high demand and fees north of US$10m are being paid routinely at Sundance and elsewhere for projects like Knock Down The House. Embankment has enjoyed similar success in 'converting' McQueen, about fashion designer Alexander McQueen, and Harvey Weinstein exposé Untouchable. Now it is pushing into the genre in a bigger way, as revealed exclusively by C21 earlier this week.
Its expanding doc slate already has two sports projects in production: Frankie and The United Way.
Frankie is directed by Emmy- and Bafta-winner Anthony Wonke (Ronaldo, Being AP) and is currently in production in the UK. The film examines the life of jockey Frankie Dettori, winner of more than 3,000 races. It is being produced by Nick Ryle (Being AP, Fighting for a City), Pete Russell and Damien O'Donohoe of Trombone Productions.
The United Way is described as a love letter to English Premier League football team Manchester United. Fully endorsed by the club and featuring some of football's most celebrated players, the film is presented by former United striker Eric Cantona. Embankment has already sealed a deal with Sky in the UK for the latter's new Sky Documentaries channel.
The film is directed by Mat Hodgson and produced by Dan Glynn, the team behind critically acclaimed football feature documentary The Four Year Plan.
Forthcoming feature docs on Embankment's slate include recently completed title Count Me In, director Mark Lo's homage to drumming, featuring exclusive interviews and performances by the world's greatest exponents of the art, including Queen, Foo Fighters, Red Hot Chili Peppers, Pink Floyd and Deep Purple. John Giwa-Amu produces with Lo in association with Split Prism Media and Great Point Media.
Stasi FC is from award-winning directors Daniel Gordon (Hillsborough, The Australian Dream) and Arne Birkenstock (Beltracchi: The Art of Forgery, 12 Tangos, Chandani) and is produced by Corso Film's Erik Winker and Martin Roelly (Searching Eva, A Woman Captured).
Currently in pre-production, the film reveals a true Cold War conspiracy in which East Germany designed its soccer league to be an example of Communist superiority, while the country's infamous secret service, the Stasi, infiltrated every aspect of the sport to manipulate, intimidate, coerce and control the public.
The End of the World As We Know It is also in an early stage of production with director John Dower (My Scientology Movie, Thrilla in Manilla). The doc is a big-hearted, playful and candid look at the three eclectic leaders at the heart of environmental campaign group Extinction Rebellion. Salon Pictures produces.
The Gipsy Kings is due for delivery in the third quarter of 2021. The doc focuses on the band, beloved by generations of fans, which toured the world for 20 years and sold 25 million albums worldwide.
Also in pre-production, Call Me Papa is an emotional and inspirational revelation about the life of Otto Frank, the father of celebrated diarist Anne Frank, who dedicated the remainder of his life after his family's murder in Nazi concentration camps to helping those in need. The film is directed by Shawn Cauthen, director of Netflix vs the World (Amazon) and The Orange Years: The Nickelodeon Story.
"When Covid-19 hit in March and theatres closed after we'd put out Military Wives on 620 screens the week before, we said 'Screw this, we're going to put fuel in the tank, go into sixth gear and drive through the storm,'" Haslam says. "From having dipped our toe into feature docs, in the last four months since March we've greenlit six feature docs. I see no reason why we can't be doing 10 a year."
The push is being led by the company's head of sales, Calum Gray, who joined the company in 2017. "The modern doc market is a variety of buyers. It's never been so rich and fertile, with the rise of the AVoD and SVoD platforms in the US and the TV broadcasters in the UK and US fighting back, like Sky with its Documentaries offering," he says.
"I liken our job to a quarterback. You have 30 or 40 plays available to you now given the breadth of the market. As you go into the market you have to feel the optimum pathway for the film, the one that's both most commercially lucrative but also gives the best visibility. We're in a golden period where the options have never been broader."
It may seem strange to be making a new move at a time when the physical film and TV markets that drive the industry aren't taking place, but Haslam isn't concerned. "Who needs a market? It's the IP and storytelling that sells," he says. "That's why we're involved early, get the storytelling right and the consumer wants it. The through line in these initial projects is great filmmakers and storytellers.
"The most important person in the room isn't in the room at the market, it's the consumer. They're more powerful than anything, especially now with on-demand, online reviews, referrals and social media recommendations. It's incredibly powerful and it's an opportunity."