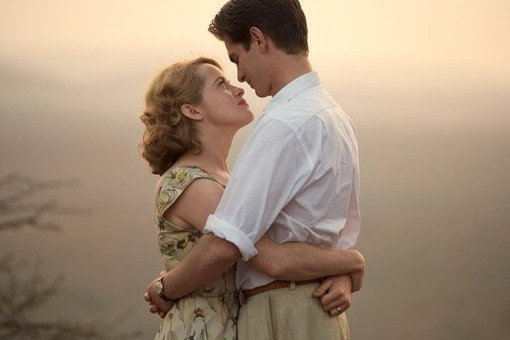 'BREATHE'S ANDREW GARFIELD – TORONTO STUDIO
13th Sep, 2017
'BREATHE'S ANDREW GARFIELD – TORONTO STUDIO
13th Sep, 2017
Deadline by Peter Hammond
 'BREATHE'S ANDREW GARFIELD ON "HOW WE CAN CREATE LIVES OF MEANING AND JOY" AMIDST TRAGEDY —TORONTO STUDIO
Chris Chapman
A pioneer in the field of computer-generated performances with such films as Lord of the Rings (portraying Gollum) and King Kong—in which he plays Kong himself—Andy Serkis found his directorial breakthrough in The Jungle Book, which was pushed to 2018 so as not to conflict with Jon Favreau's 2016 adaptation of Rudyard Kipling's classic collection of stories. But no matter—in the meantime, Serkis shot another film, Breathe, which bowed at the Toronto Film Festival this week.
'Breathe' Trailer: Andy Serkis-Helmed Pic Starring Andrew Garfield & Claire Foy To Open London Film…
Starring Andrew Garfield and Claire Foy—an Emmy frontrunner for her turn as Queen Elizabeth II in The Crown, that can't quite process that reality at the moment—the film tells the true story of Robin Cavendish (Garfield), a young man paralyzed by polio, and Diana, the strong, brilliant woman who supported her husband through his deep depression and ultimate acceptance of his fate. With very little expectation of a long life for Robin, he and Diana elect to invent a new life for themselves, straying from Robin's mandated hospital stay and pioneering in technology to better the lives of those suffering from this terrible condition.
Interestingly, this remarkable true story came to Serkis through his business partner at Imaginarium Productions, Jonathan Cavendish, the son of the couple on display in the film. Known for his work in very different kinds of movies, Serkis made a passionate pitch to direct the film. "Five or six years ago, we started Imaginarium [Productions]. It was a performance capture studio and a production entity with the view to creating lots of different projects, 'next generation storytelling' sort of projects, and then we had an old slate of films that he was wanting to make. One of these films was a film called Breathe, which he'd been working on for some time before we got together," Serkis explains. " I read it one night and, as most people did who read the script originally, I couldn't stop crying. It was just so powerful, such a brilliant piece of writing, and I said to Jonathan, 'I know I'm sort of more known for directing dwarves, goblins and creatures of Middle-earth, and jungle animals, but I really would love to direct this. What do you think?'"
"He said, 'Absolutely'—without a blink, he just said, 'Yeah,'" the director remembers. "So we started to develop it, and what I loved about it—what really inspired me to want to do it, actually, apart from the fact that it was the most amazing love story—was that it seemed to me to be a story about pioneering. At that point in the story when Diana says, 'How can I make life better for you?' and he says, 'Get me out of here,' from then on, they are basically creating life afresh in a way that had never been done before."
Like Eddie Redmayne in The Theory of Everything—a film which delivered that actor his first Oscar—Garfield is confined to a chair throughout the film, with a ventilator attached to keep him breathing. Undoubtedly, the role must have presented physical and logistical challenges for Garfield, among others, but as with his remarkable turn in last year's Hacksaw Ridge, the actor is ever modest, placing the focus on the material and the remarkable people who really experienced these events.
"There's a magic to it. There was a magic to their lives, there's a magic to Jonathan, there's a magic to the script that Bill Nicholson wrote, without wanting payment until the film got made. There was a magic to the whole process, and it was palpable," Garfield says. "From my first reading of the script, I was so deeply and profoundly moved because it felt like a story that was so much more than about these two people. It was about how we can create meaning as human beings, how we can create lives of meaning and of joy, and of community amidst such terrible tragedy and loss, and laugh at the cosmic joke of existence."
"And those words don't do it justice," he continues. "Their lives felt like a poem."
A real logistical challenge for Serkis—more familiar with the extended shooting schedules of blockbuster films—the director and actors had to tell their story in 7 weeks, three of those weeks, in South Africa. While the production schedule was "incredibly intense," it was the singular purpose of those involved with the production that made it all possible.
"We really were blessed, actually, because we had a fantastic crew—the most amazing people in all departments—who were all there because they wanted to tell the story," Serkis says. "So that was brilliant. But watching these guys work together was so phenomenal, and what they released in each other was just beautiful to watch every single day."
To see Deadline's conversation with Breathe director Andy Serkis and his stars for yourself, click above.