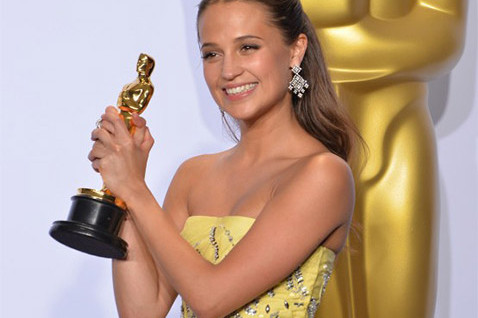 ALICIA VIKANDER WINS FIRST OSCAR FOR 'THE DANISH GIRL,' PRAISES EDDIE REDMAYNE
28th Feb, 2016
ALICIA VIKANDER WINS FIRST OSCAR FOR 'THE DANISH GIRL,' PRAISES EDDIE REDMAYNE
28th Feb, 2016
Alicia Vikander has won the Academy Award for her supporting actress role in "The Danish Girl" as Gerda Wegener — and issued extravagant praise on co-star Eddie Redmayne in her acceptance speech.
"Thank you for being the best acting partner," a tearful Vikander said from the stage. "You raised my game."
In what was regarded as one of the more competitive categories, the 27-year-old Swedish actress topped Jennifer Jason Leigh for "The Hateful Eight," Rooney Mara for "Carol," Rachel McAdams for "Spotlight" and Kate Winslet for "Steve Jobs."
Vikander has been the frontrunner in the category since winning the SAG Award for her role opposite Redmayne, who plays Lily Elbe, one of the first recipients of sex reassignment surgery. "The Danish Girl" was directed by Tom Hooper.
Redmayne, who won the best actor Oscar last year for "Theory of Everything," is nominated in the same category this year for "The Danish Girl."
The film premiered in the main competition section of the 72nd Venice International Film Festival in September. Since then, Vikander's performance has gained plenty of momentum among critics for the highly nuanced story of a spouse who has to override her own desires and reservations to set her husband free.
Vikander was nominated for two BAFTA awards this year — for "The Danish Girl" in a leading role and for "Ex Machina" in a supporting role.
She broke out for her performance in the 2012 epic "Anna Karenina." Her other credits include "A Royal Affair," "Testament of Youth," "The Man from U.N.C.L.E." and "Hotell." Her upcoming movies include "The Light Between Oceans," "Tulip Fever" and Paul Greengrass' new "Jason Bourne" thriller starring Matt Damon.